01.12.2014 | Research article | Ausgabe 1/2014 Open Access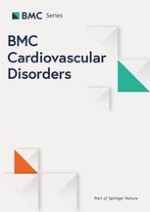 Plasma calprotectin and its association with cardiovascular disease manifestations, obesity and the metabolic syndrome in type 2 diabetes mellitus patients
Zeitschrift:
Autoren:

Lise Pedersen, Mads Nybo, Mikael Kjær Poulsen, Jan Erik Henriksen, Jordi Dahl, Lars Melholt Rasmussen
Wichtige Hinweise
Electronic supplementary material
The online version of this article (doi:
10.​1186/​1471-2261-14-196
) contains supplementary material, which is available to authorized users.
Competing interests
The authors declare that they have no competing interests.
Authors' contributions
LP carried out validation of the calprotectin assay, analyzed the data and performed the statistical analysis. MKP carried out the clinical study (performed the ultrasound scans of the carotid arteries, strain gauge measurement and the myocardial scintigraphies). LP and MN drafted the manuscript. MN, JD, JEH and LMR conceived study and participated in the design and coordination of the study and helped to draft the manuscript. All authors read and approved the final manuscript.
Abstract
Background
Plasma calprotectin is a potential biomarker of cardiovascular disease (CVD), insulin resistance (IR), and obesity. We examined the relationship between plasma calprotectin concentrations, CVD manifestations and the metabolic syndrome (MetS) in patients with type 2 diabetes mellitus (T2DM) in order to evaluate plasma calprotectin as a risk assessor of CVD in diabetic patients without known CVD.
Methods
An automated immunoassay for determination of plasma calprotectin was developed based on a fecal Calprotectin ELIA, and a reference range was established from 120 healthy adults. Plasma calprotectin concentrations were measured in 305 T2DM patients without known CVD. They were screened for carotid arterial disease, peripheral arterial disease (PAD), and myocardial ischemia (MI) by means of carotid artery ultrasonography, peripheral ankle and toe systolic blood pressure measurements, and myocardial perfusion scintigraphy.
Results
The reference population had a median plasma calprotectin concentration of 2437 ng/mL (2.5-97.5% reference range: 1040–4262 ng/mL). The T2DM patients had significantly higher concentrations (3754 ng/mL, p < 0.0001), and within this group plasma calprotectin was significantly higher in patients with MetS (p < 0.0001) and also in patients with autonomic neuropathy, PAD, and MI compared with patients without (p < 0.001, p = 0.021 and p = 0.043, respectively). Plasma calprotectin was by linear regression analysis found independently associated with BMI, C-reactive protein, and HDL cholesterol. However, plasma calprotectin did not predict autonomic neuropathy, PAD, MI or CVD when these variables entered the multivariable regression analysis as separate outcome variables.
Conclusion
T2DM patients had higher concentrations of plasma calprotectin, which were associated with obesity, MetS status, autonomic neuropathy, PAD, and MI. However, plasma calprotectin was not an independent predictor of CVD, MI, autonomic neuropathy or PAD.
Trial registration number