01.12.2015 | Research article | Ausgabe 1/2015 Open Access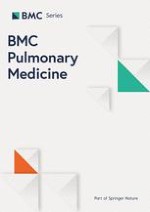 Plasma Chemokine signature correlates with lung goblet cell hyperplasia in smokers with and without chronic obstructive pulmonary disease
Zeitschrift:
Autoren:

Victor Kim, William D. Cornwell, Michelle Oros, Heba Durra, Gerard J. Criner, Thomas J. Rogers
Wichtige Hinweise
Competing interests
VK has participated in clinical trials sponsored by Boehringer Ingelheim, GlaxoSmithKline, MedImmune, and Roche pharmaceuticals and has served on an advisory committee for CSA (Sum total $1000). VK's work was supported by NHLBI K23HL094696. MO, TJR, WDC, and HD have nothing to disclose. The work from TJR and WDC were supported by NIH P30DA13429. GJC has served on Advisory Committees for Boehringer Ingelheim, CSA, Amirall and Holaira. All of these sums are less than $2,500. GJC has received research grants from: Boehringer Ingelheim, AstraZeneca, MedImmune, Pearl, Actelion, GlaxoSmithKline, Forest, Aeris, Therapeutics, Pulmonx and PneumRx. All research grant monies are deposited and controlled by Temple University.
Authors' contributions
VK, WDC, TJR, and GJC contributed to study design, performance of experiments, writing of the manuscript, and data analysis. HD and MO took images for the measurement of mucin volume density and contributed to data analysis. VK is the guarantor for the overall content. All authors read and approved the final version of the manuscript.
Authors' information
Not applicable.
Availability of data and materials
Not applicable.
Abstract
Background
Chronic Obstructive Pulmonary Disease (COPD) is characterized by lung and systemic inflammation as well as airway goblet cell hyperplasia (GCH). Mucin production is activated in part by stimulation of the epidermal growth factor (EGF) receptor pathway through neutrophils and macrophages. How circulating cytokine levels relate to GCH is not clear.
Methods
We performed phlebotomy and bronchoscopy on 25 subjects (six nonsmokers, 11 healthy smokers, and eight COPD subjects FEV
1
30–60 %). Six endobronchial biopsies per subject were performed. GCH was measured by measuring mucin volume density (MVD) using stereological techniques on periodic acid fast-Schiff stained samples. We measured the levels of chemokines CXCL8/IL-8, CCL2/MCP-1, CCL7/MCP-3, CCL22/MCD, CCL3/MIP-1α, and CCL4/MIP-1β, and the cytokines IL-1, IL-4, IL-6, IL-9, IL-17, EGF, and vascular endothelial growth factor (VEGF). Differences between groups were assessed using one-way ANOVA,
t
test, or Chi squared test. Post hoc tests after ANOVA were performed using Bonferroni correction.
Results
MVD was highest in healthy smokers (27.78 ± 10.24 μL/mm
2
) compared to COPD subjects (16.82 ± 16.29 μL/mm
2
,
p
 = 0.216) and nonsmokers (3.42 ± 3.07 μL/mm
2
,
p
<0.0001). Plasma CXCL8 was highest in healthy smokers (11.05 ± 8.92 pg/mL) compared to nonsmokers (1.20 ± 21.92 pg/mL,
p
 = 0.047) and COPD subjects (6.01 ± 5.90 pg/mL,
p
 = 0.366). CCL22 and CCL4 followed the same trends. There were no significant differences in the other cytokines measured. When the subjects were divided into current smokers (healthy smokers and COPD current smokers) and non/ex-smokers (nonsmokers and COPD ex-smokers), plasma CXCL8, CCL22, CCL4, and MVD were greater in current smokers. No differences in other cytokines were seen. Plasma CXCL8 moderately correlated with MVD (
r
 = 0.552,
p
 = 0.003).
Discussion
In this small cohort, circulating levels of the chemokines CXCL8, CCL4, and CCL22, as well as MVD, attain the highest levels in healthy smokers compared to nonsmokers and COPD subjects. These findings seem to be driven by current smoking and are independent of airflow obstruction.
Conclusions
These data suggest that smoking upregulates a systemic pattern of neutrophil and macrophage chemoattractant expression, and this correlates significantly with the development of goblet cell hyperplasia.