01.12.2016 | Research | Ausgabe 1/2016 Open Access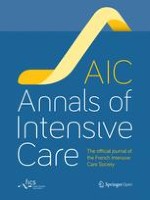 Plasma endostatin may improve acute kidney injury risk prediction in critically ill patients
Zeitschrift:
Autoren:

Johan Mårtensson, Niklas Jonsson, Neil J. Glassford, Max Bell, Claes-Roland Martling, Rinaldo Bellomo, Anders Larsson
Wichtige Hinweise
Electronic supplementary material
The online version of this article (doi:
10.​1186/​s13613-016-0108-x
) contains supplementary material, which is available to authorized users.
Abbreviations
APACHE
acute physiology and chronic health evaluation
AUC
area under the receiver operating characteristics curve
ELISA
enzyme-linked immunosorbent assay
GFR
glomerular filtration rate
IDI
integrated discrimination improvement
KDIGO
Kidney Disease: Improving Global Outcomes
MDRD
modification of diet in renal disease
NGAL
neutrophil gelatinase-associated lipocalin
NRI
net reclassification improvement
SIRS
systemic inflammatory response syndrome
Background
Acute kidney injury (AKI) is common in the critically ill and associated with a high mortality rate [
1
]. Biomarkers may allow earlier detection of patients at risk of AKI and enable earlier intervention. Endostatin, the C-terminal fragment of collagen XVIII, is released into the circulation as a consequence of accelerated turnover of collagen XVIII in the basement membranes of the renal tubular epithelium, Bowman's capsule, mesangium and renal capillaries, and may be one such biomarker [
2
].
In animal AKI models, upregulated renal endostatin expression preceded deteriorating kidney function by several hours [
3
,
4
]. In addition, elevated serum endostatin has been associated with the degree of renal dysfunction in elderly patients and independently predicts the subsequent development of chronic kidney disease (CKD) in this population [
5
]. Endostatin has also been associated with mortality in several patient groups [
6
–
8
]. However, the potential of endostatin to identify critically ill patients at a higher risk of AKI remains unexplored.
Accordingly, we conducted a prospective, exploratory observational study to investigate the value of plasma endostatin as an early biomarker of AKI by comparing it with traditional clinical assessments of renal function and with plasma neutrophil gelatinase-associated lipocalin (NGAL) and plasma cystatin C. We hypothesized that, in patients with normal renal function on ICU admission, plasma endostatin levels would be higher among those patients who subsequently develop AKI compared with those who do not. In addition, we hypothesized that admission plasma endostatin would improve the AKI predictive ability of a clinical risk model.
Methods
This study was approved by the regional ethical review board in Stockholm and has therefore been performed in accordance with the ethical standards laid down in the 1964 Declaration of Helsinki and its later amendments. Written informed consent was obtained from patients or their next of kin.
Patient selection and operational definitions
We screened patients admitted to the general intensive care unit (ICU) at the Karolinska University Hospital, Solna, Sweden, from August 2007 to November 2010. We enrolled patients with an expected length of stay of more than 24 h and an estimated glomerular filtration rate (eGFR) of more than 60 mL/min/1.73 m2 (modification of diet in renal disease [MDRD] equation) on ICU admission.
We defined AKI as a ≥50 % increase in plasma creatinine from baseline or an increase in plasma creatinine by ≥26.5 µmol/L within 48 h and/or a urine output less than 0.5 mL/kg/h for at least 6 consecutive hours according to the Kidney Disease: Improving Global Outcomes (KDIGO) criteria [
9
]. We used the lowest creatinine level obtained within 3 months before ICU admission as baseline for the KDIGO classification. Missing baseline creatinine was imputed using the MDRD formula and an eGFR of 75 mL/min/1.73 m
2
[
9
]. We decided a priori to exclude patients having their first study sample obtained >48 h after ICU admission and patients with AKI on the day of their first study sample collection. Our primary outcome was development of AKI within 72 h of first study sample collection. Accordingly, we recorded AKI status until a maximum of 5 days following ICU admission.
We defined the systemic inflammatory response syndrome (SIRS) using three or more SIRS criteria [
10
]. Sepsis was defined as a suspected or confirmed infection together with SIRS.
Plasma sampling and biomarker analyses
We collected blood samples on study inclusion and twice daily thereafter until ICU discharge or start of renal replacement therapy. After centrifugation at 2000 rpm at 4 °C for 10 min, the supernatant plasma was stored at −80 °C.
Endostatin and NGAL were analyzed during 2013 using a commercially available enzyme-linked immunosorbent assay (ELISA) kit [DY1098 (endostatin) and DY1757 (NGAL), R&D Systems, Minneapolis, MN]. The assays had a total coefficient of variation (CV) of approximately 6 %. Cystatin C was measured with a particle-enhanced turbidimetric immunoassay on the Architect Ci8200 analyzer (Abbott Laboratories, Abbott Park, IL) with cystatin C reagents from Gentian (Moss, Norway).
Statistical analysis
Data were analyzed using STATA
®
version 11.2 software (Stata Corporation, College Station, TX, USA). Data are presented as medians and interquartile ranges (IQR) or as numbers and percentages. The Mann–Whitney test and Fisher's exact test were used to test for differences between groups. The change over time for endostatin was tested by a repeated-measure analysis of variance (ANOVA). To compare the change over time between groups (AKI versus no AKI), we introduced an interaction variable between group and time to the ANOVA model. We assessed correlation using Spearman's rank correlation coefficient (rho). The association of clinical variables with AKI development was assessed by multivariate logistic regression analysis. The following clinical predictor variables were considered: age, sex, acute physiology and chronic health evaluation (APACHE) II score, baseline creatinine, delta creatinine, early oliguria (urine output <0.5 mL/kg/h for >2 h but <6 h), presence of SIRS, presence of sepsis and noradrenaline dose. Clinical predictor variables were included in the multivariate models if they were statistically significant at
P
< 0.10 in the univariate analyses.
We assessed whether the addition of the measured biomarkers to the clinical model improved the predictive power for AKI by using the likelihood-ratio test. In addition, we calculated the area under the receiver operating characteristics curve (AUC) for the clinical model with and without inclusion of the measured biomarkers. The equality of AUCs was assessed by the method of DeLong et al. [
11
]. We described AUCs using the following values: 0.90–1.0 excellent, 0.80–0.89 good, 0.70–0.79 fair, 0.60–0.69 poor and 0.50–0.59 no useful performance [
12
]. The contributions of the biomarkers to risk prediction were further assessed by the net reclassification improvement (NRI) and the integrated discrimination improvement (IDI) methods. Log-transformed (base 10) biomarker values were used in the statistical analyses. Two-sided
P
values below 0.05 were considered statistically significant.
Results
Discussion
Conclusions
Our results suggest that plasma endostatin may be a fair predictor of AKI developing within 72 h of ICU admission in patients without preexisting renal disease. Combining endostatin with clinical variables may further enhance AKI risk prediction in such patients. In addition, within the limitations of an exploratory investigation, our findings suggest that endostatin may outperform two previously proposed AKI markers, cystatin C and NGAL. Our results provide the basis for further evaluation of endostatin as a biomarker of early AKI in independent cohorts of critically ill patients.
Authors' contributions
JM and CRM designed and coordinated the study. AL conducted biomarker analyses. JM, NJ and MB collected study data. JM, NJG and RB analyzed and interpreted the data. JM performed the statistical analysis. All authors participated in writing the manuscript. All authors read and approved the final manuscript.
Competing interests
The authors declare that they have no competing interest.
Open Access
This article is distributed under the terms of the Creative Commons Attribution 4.0 International License (
http://​creativecommons.​org/​licenses/​by/​4.​0/​
), which permits unrestricted use, distribution, and reproduction in any medium, provided you give appropriate credit to the original author(s) and the source, provide a link to the Creative Commons license, and indicate if changes were made.