01.12.2012 | Original investigation | Ausgabe 1/2012 Open Access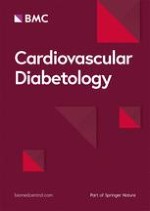 Plasma vitamin D and parathormone are associated with obesity and atherogenic dyslipidemia: a cross-sectional study
Zeitschrift:
Autoren:

Alba Guasch, Mònica Bulló, Antoni Rabassa, Anna Bonada, Daniel Del Castillo, Fàtima Sabench, Jordi Salas-Salvadó
Wichtige Hinweise
Competing interests
Authors have no conflict of interest to declare.
Authors' contributions
AG, MB and JSS conceived the study. AR, DDC, AB, FS and JSS recruited subjects and collected data. AG, MB and JSS performed data analysis and wrote the manuscript. AG, MB and JSS reviewed/edited the final version of the manuscript. All authors approved the final manuscript.
Abstract
Background
Low concentrations of plasma vitamin D (25(OH)D) have been associated with the development of metabolic syndrome (MetS), obesity, diabetes and cardiovascular disease. The objective of this study was to quantify the associations between 25(OH)D and parathormone (PTH) plasma levels and obesity, the presence of MetS, diabetes or atherogenic dyslipidemia (AD) in a large sample of individuals with different degrees of adiposity.
Methods
Retrospective study of all patients who had attended the obesity clinics in a Spanish hospital between 2009 and 2011, and whose concentrations of PTH, 25(OH)D, calcium and alkaline phosphatase had been determined (n=316, 75.9% women). Individuals were categorized by degree of adiposity, presence of MetS, and other comorbidities.
Results
PTH increased but 25(OH)D and calcium decreased with increasing adiposity. The prevalence of 25(OH)D deficiency or insufficiency increased with obesity (<10% when BMI<45kg/m2, and 26% when >50). The prevalence of hyperparathyroidism increased from 12% in non-obese to 47.5% in morbidly obese individuals with BMI>50 kg/m2. Low plasma 25(OH)D and high PTH concentrations were associated with an increased risk of MetS and AD. These associations disappeared, except in the case of AD for 25(OH)D when adjusting for BMI. Regression analysis revealed that BMI and age or seasonality were independent predictors of PTH and 25(OH)D levels, respectively.
Conclusions
BMI was the variable most strongly associated with plasma 25(OH)D and PTH concentrations in our study. Low 25(OH)D and high PTH concentrations were not independently associated with an increased risk of MetS, or diabetes. Our data support a possible contribution of plasma 25(OH)D to the pathogenesis of hypertriglyceridemia and AD through inflammation.