01.12.2017 | Research article | Ausgabe 1/2017 Open Access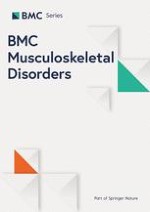 Plasminogen activator inhibitor-1 deficiency enhances subchondral osteopenia after induction of osteoarthritis in mice
Zeitschrift:
Autoren:

Akihiro Moritake, Naoyuki Kawao, Kiyotaka Okada, Kohei Tatsumi, Masayoshi Ishida, Katsumi Okumoto, Osamu Matsuo, Masao Akagi, Hiroshi Kaji
Abstract
Background
Subchondral osteopenia is important for the pathophysiology of osteoarthritis (OA). Although previous studies suggest that plasminogen activator inhibitor-1 (PAI-1), an inhibitor of fibrinolysis, is related to bone metabolism, its role in OA remains unknown. We therefore investigated the roles of PAI-1 in the subchondral bone in OA model mice.
Methods
Wild type (WT) and PAI-1-deficient (KO) mice were ovariectomized (OVX), and then destabilization of the medial meniscus (DMM) surgery was performed.
Results
DMM and OVX significantly decreased the trabecular bone mineral density of the subchondral bone evaluated by quantitative computed tomography in PAI-1 KO mice. The effects of OVX and/or PAI-1 deficiency on the OARSI score for the evaluation of the progression of knee degeneration were not significant. PAI-1 deficiency significantly augmented receptor activator nuclear factor κB ligand mRNA levels enhanced by IL-1β in mouse primary osteoblasts, although it did not affect osteoblast differentiation. Moreover, PAI-1 deficiency significantly increased osteoclast formation from mouse bone marrow cells.
Conclusion
We showed that PAI-1 deficiency accelerates the subchondral osteopenia after induction of OA in mice. PAI-1 might suppress an enhancement of bone resorption and subsequent subchondral osteopenia after induction of OA in mice.