01.12.2017 | Research article | Ausgabe 1/2017 Open Access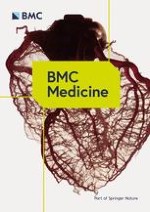 Plasmodium falciparum

EPCR-binding PfEMP1 expression increases with malaria disease severity and is elevated in retinopathy negative cerebral malaria
Zeitschrift:
Wichtige Hinweise
Electronic supplementary material
The online version of this article (doi:
10.​1186/​s12916-017-0945-y
) contains supplementary material, which is available to authorized users.
Abbreviations
EPCR
Endothelial protein C receptor
PfEMP1
Plasmodium falciparum
erythrocyte membrane protein 1
Background
Methods
Study design
This prospective cohort study with the overall goal of understanding the effects of severe malaria on neurodevelopment was conducted at Mulago National Referral and Teaching Hospital in Kampala, Uganda in 2008–2015 and enrolled children with CM, children with SMA, and community children (CC). The study was reviewed and approved by the Ugandan National Council for Science and Technology (UNCST), the Makerere University School of Medicine Research and Ethics Committee, and the University of Minnesota Institutional Review Board. Written informed consent was obtained from parents or guardians of study participants.
Children between 18 months and 12 years of age, meeting the World Health Organization definition for CM or SMA, were recruited from the Acute Care Unit at Mulago Hospital as previously described [
1
]. CM was defined as (1) coma (Blantyre coma score [BCS] ≤ 2), (2)
P. falciparum
on blood smear, and (3) no other known cause of coma. SMA was defined as presence of
P. falciparum
on blood smear in children with hemoglobin 
<
 5 g/dL. Exclusion criteria for children with SMA included any impairment of consciousness or having > 1 seizure. Children with severe malaria were managed according to the Ugandan Ministry of Health treatment guidelines at the time, which included quinine treatment [
1
].
CC were recruited from the nuclear family, extended family, or household compound area of children with CM or SMA. Eligible CC were aged 18 months to 12 years and currently healthy. A blood smear was taken from these children at the time of enrollment, and those who had any density of P. falciparum on the smear are indicated here as asymptomatic parasitemic (AP). Exclusion criteria for all children included (1) known chronic illness requiring medical care, (2) known developmental delay, or (3) prior history of coma, head trauma, cerebral palsy, or hospitalization for malnutrition. A total of 269 children with CM, 232 children with SMA, and 217 CC were enrolled in the study. Of the 217 CC, 32 had asymptomatic parasitemia.
Sample collection and RNA isolation
Whole blood was collected at enrollment in PAXgene Blood RNA preservative solution (PreAnalytiX, Hombrechtikon, Switzerland) in a ratio of 2.76 mL of additive per mL of blood. The samples were stored long term at –80 °C. RNA was isolated using the PAXgene Blood RNA Kit (PreAnalytiX, Hombrechtikon, Switzerland).
Primer design
Primers were designed and optimized and previously described [
32
]. Briefly, the primers used in this study were designed based on full-length DBL and CIDR domain encoding sequences from seven
P. falciparum
genomes and 226 Illumina whole genome sequenced
P. falciparum
field isolates [
32
]. Primer sequences, coverage, and specificity are depicted in Additional file
1
: Figure S1.
Quantification of
var

transcript levels by qRT-PCR

Total RNA was treated with DNase I (Invitrogen, Carlsbad, CA, USA). Complementary DNA (cDNA) was synthesized using random hexamers and the SuperScript® III First-Strand Synthesis System (Invitrogen, Carlsbad, CA, USA) according to manufacturer's instructions. qRT-PCR was performed in 20-μL reactions using KiCqStart® SYBR® Green qPCR ReadyMix™ (Sigma-Aldrich, St. Louis, MO, USA) with the 7500 Real Time PCR System (Applied Biosystems, Foster City, CA, USA). Amplification was performed following the previously published conditions [

31

], and data was collected at the final elongation step. No reverse transcriptase and no template controls for both housekeeping genes were included in the plates to rule out DNA contamination in the RNA samples and any nucleic acid contamination in reagents, respectively. Gene expression was normalized to the average of two housekeeping genes: seryl-tRNA synthetase and fructose-bisphosphate aldolase (ΔC

t var_primer

 = C

t var_primer

 − C

t average_control primers

). ΔC

t var_primer

was transformed into arbitrary transcript units using T

u

 = 2

(5−ΔCt)

. Only samples that had a C

t average_control

below 25 were included in the analysis. Melting temperature analysis was performed for each target, and only samples with

T

m

within 1.7 °C of median

T

m

were analyzed. If only primer dimers or non-specific larger targets were detected, T

u

for that target was assigned as 1.
Laboratory testing
Peripheral blood smears were assessed for
Plasmodium
species by microscopy with Giemsa staining using standard protocols. Blood culture was performed with the Bactec 9050 Blood Culture System (Becton Dickinson, Franklin Lakes, NJ, USA). Blood culture samples negative by this method were further cultured on blood agar or chocolate agar to further rule out bacterial infection. PfHRP-2 quantification was performed using the Malaria Ag CELISA (Cellabs, Brookvale, Australia). Sequestered parasite biomass was calculated as previously described [
39
]. Plasma soluble intercellular adhesion molecule-1 (sICAM-1), vascular cellular adhesion molecule-1 (sVCAM-1), and soluble P-Selectin and E-Selectin were measured by magnetic cytometric bead assay in plasma diluted 1:300 (R&D Systems, Minneapolis, MN, USA) according to manufacturer's instructions with a BioPlex-200 system (Bio-Rad, Hercules, CA, USA). Plasma angiopoietin-2 (Ang-2) and von Willebrand factor (VWF) levels were quantified using the human angiopoietin-2 DuoSet ELISA kit (R&D Systems, Minneapolis, MN, USA) and the REAADS von Willebrand Factor activity ELISA kit (Corgenix, Broomfield, CO), respectively. Soluble EPCR levels in plasma were quantified using the Asserachrom® sEPCR immunoassay (Stago Group, Gennevilliers, France) according to manufacturer's instructions.
Malarial retinopathy diagnosis
Children were assessed for malarial retinopathy by indirect ophthalmoscopy. Ophthalmoscopy was done by medical officers in all CM patients on admission, and repeated every 24 h while they remained comatose. Before each examination, the pupils were dilated with sequential instillation of cyclopentolate 1% and tropicamide 1%. Using a binocular indirect ophthalmoscope, an eye exam was performed 30–60 min later. The medical officers were trained by an ophthalmologist experienced in the evaluation of malarial retinopathy. The study investigators and ophthalmologist then continued training and assessing the study medical officers for accuracy in this assessment and recording of the ophthalmoscopic finding. Children with retinopathy on any exam were classified as RP.
Statistical analysis
Data was analyzed using Stata/SE 12.1 (StataCorp, College Station, TX, USA). Transcript abundance of
var
genes was compared between disease groups using the Mann-Whitney
U
test. Clinical and laboratory findings for children in the different disease groups were compared using the chi-squared test for categorical data and
t
tests for continuous measures. Associations between
var
types and parasite biomass, sequestered parasite load, and markers of endothelial activation and anemia were determined by Spearman's correlation and adjusted for multiple comparisons by a Bonferroni correction. T
u
for group A-EPCR binders was determined as the sum of [CIDRa1.4, CIDRa1.5a, CIDRa1.5b, CIDRa1.6b, and CIDRa1.7]T
u
-4; T
u
for group B-EPCR binders was determined as the sum of [CIDRa1.1, CIDRa1.8a, and CIDRa1.8b]T
u
-2; T
u
of CIDRα1 EPCR binders was calculated as the sum of [CIDRa1.1-CIDRa1.8b]T
u
-7.
Results
Discussion
Only results reported by DBLa2/1.1/2/4/7 primers were weakly but not significantly associated with endothelial activation (specifically increased sVCAM-1 levels) in SM. This suggests that at this stage of the disease, pathways that lead to sequestered parasite load and endothelial activation are more complex than simply PfEMP1 binding to host receptors. In the current study, none of the EPCR-binding PfEMP1 transcript levels were associated with plasma levels of sEPCR, suggesting that binding of PfEMP1 to EPCR might prevent shedding of EPCR in an inflammatory context. This potential mechanism would be interesting to explore in vitro with parasite strains that bind specifically to EPCR.
Conclusions
The present study suggests that EPCR-binding PfEMP1 expression is important in the development of severe malaria, and that increased EPCR-binding PfEMP1 expression is associated with progressively more severe disease. The presence of high levels of EPCR-binding PfEMP1 transcripts in RN and/or PfHRP-2-low CM further suggests that
P. falciparum
is playing a role in RN CM. The study provides the strongest evidence to date that
P. falciparum
, via PfEMP1, is involved in the pathogenesis of both RP and RN/PfHRP-2-low CM, and thus provides further support for PfEMP1, and in particular EPCR-binding PfEMP1, as a target for interventions to prevent severe malaria.
Acknowledgements
We thank the study teams at Makerere University, Mulago Hospital, the University of Minnesota, and Indiana University for their essential work on this study. We are grateful to the children and parents who took part in the study.
Funding
This work was supported by grants from the National Institute of Neurological Disorders and Stroke and the Fogarty International Center (R01 NS05534, D43 NS078280), the Thrasher Research Fund (CON00000004664), and the Danish Council for Independent Research (Sapere Aude program DFF–4004-00624B). The content is solely the responsibility of the authors and does not necessarily represent the official views of the funding institutions. The sponsor of the study had no role in study design, data collection, data analysis, data interpretation, or writing of the report. The corresponding author had full access to all the data in the study and had final responsibility for the decision to submit for publication.
Availability of data and materials
The datasets used and/or analyzed during the current study are available from the corresponding author on reasonable request.
Ethics approval and consent to participate
The study was reviewed and approved by the Ugandan National Council for Science and Technology (UNCST), the Makerere University School of Medicine Research and Ethics Committee, and the University of Minnesota Institutional Review Board. Written informed consent was obtained from parents or guardians of study participants.
Consent for publication
Not applicable.
Competing interests
The authors declare that they have no competing interests.
Publisher's Note
Springer Nature remains neutral with regard to jurisdictional claims in published maps and institutional affiliations.
Open Access
This article is distributed under the terms of the Creative Commons Attribution 4.0 International License (
http://​creativecommons.​org/​licenses/​by/​4.​0/​
), which permits unrestricted use, distribution, and reproduction in any medium, provided you give appropriate credit to the original author(s) and the source, provide a link to the Creative Commons license, and indicate if changes were made. The Creative Commons Public Domain Dedication waiver (
http://​creativecommons.​org/​publicdomain/​zero/​1.​0/​
) applies to the data made available in this article, unless otherwise stated.