01.12.2012 | Research | Ausgabe 1/2012 Open Access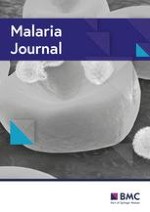 Plasmodium vivax

and

Plasmodium falciparum

infections in the Republic of Djibouti: evaluation of their prevalence and potential determinants
Zeitschrift:
Autoren:

Bouh Abdi Khaireh, Sébastien Briolant, Aurélie Pascual, Madjid Mokrane, Vanessa Machault, Christelle Travaillé, Mohamed Abdi Khaireh, Ismail Hassan Farah, Habib Moussa Ali, Abdul-Ilah Ahmed Abdi, Souleiman Nour Ayeh, Houssein Youssouf Darar, Lénaïck Ollivier, Mohamed Killeh Waiss, Hervé Bogreau, Christophe Rogier, Bruno Pradines
Wichtige Hinweise
Electronic supplementary material
The online version of this article (doi:
10.​1186/​1475-2875-11-395
) contains supplementary material, which is available to authorized users.
Bouh Abdi Khaireh, Sébastien Briolant contributed equally to this work.
Competing interests
The authors declare that they have no competing interests.
Authors' contributions
BAK, SB, HB, CR and BP conceived and designed the experiments. BAK, LO, MAK, IHF, HMA, AAA, MKW, SNA, HYD and CR collected the data. HB, AP, BAK, SB, VM and CT contributed to reagents/materials/analysis tools. SB, BAK, HB, MAK, VM and CR analysed the data. BAK, SB, AP, VM, CR and BP wrote the paper. All authors read and approved the final manuscript.
Abstract
Background
Formerly known as a hypoendemic malaria country, the Republic of Djibouti declared the goal of pre-eliminating malaria in 2006. The aim of the present study was to evaluate the prevalence of
Plasmodium falciparum
,
Plasmodium vivax
and mixed infections in the Djiboutian population by using serological tools and to identify potential determinants of the disease and hotspots of malaria transmission within the country.
Methods
The prevalence of
P
.
falciparum
and
P
.
vivax
within the districts of the capital city and the rest of the Republic of Djibouti were assessed using 13 and 2 serological markers, respectively. The relationship between the immune humeral response to
P
.
falciparum
and
P
.
vivax
and variables such as age, gender, wealth status, urbanism, educational level, distance to rivers/lakes, living area, having fever in the last month, and staying in a malaria-endemic country more than one year was estimated and analysed by questionnaires administered to 1910 Djiboutians. Multivariate ordinal logistic regression models of the immune humeral response were obtained for
P
.
falciparum
and
P
.
vivax
.
Results
The
P
.
falciparum
and
P
.
vivax
seroprevalence rates were 31.5%, CI95% [29.4-33.7] and 17.5%, CI95% [15.8-19.3], respectively. Protective effects against
P
.
falciparum
and
P
.
vivax
were female gender, educational level, and never having visited a malaria-endemic area for more than one year. For
P
.
falciparum
only, a protective effect was observed for not having a fever in the last month, living more than 1.5 km away from lakes and rivers, and younger ages.
Conclusions
This is the first study that assessed the seroprevalence of
P
.
vivax
in the Republic of Djibouti. It is necessary to improve knowledge of this pathogen in order to create an effective elimination programme. As supported by recent observations on the subject, the Republic of Djibouti has probably demonstrated a real decrease in the transmission of
P
.
falciparum
in the past seven years, which should encourage authorities to improve efforts toward elimination.