01.03.2012 | Review Article | Ausgabe 3/2012 Open Access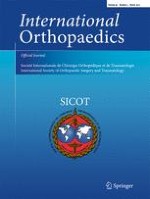 Plate fixation versus intramedullary fixation for displaced mid-shaft clavicle fractures: a systematic review
Zeitschrift:
Autoren:

R. Marijn Houwert, Frans-Jasper Wijdicks, Charlotte Steins Bisschop, Egbert-Jan Verleisdonk, Moyo Kruyt
Abstract
Purpose
The optimal surgical approach for displaced midshaft clavicle fracture remains controversial. The objective of this systematic review is to compare functional outcome and complications after plate fixation and intramedullary fixation for displaced midshaft clavicle fractures.
Methods
A computer aided search of PUBMED and Embase was carried out on January 11th 2011. Every study that was published in the English, German, French or Dutch language was considered for inclusion. A total of four studies could be included of which two compared intramedullary fixation versus plate fixation, and two compared intramedullary fixation and plate fixation versus conservative treatment for displaced midshaft clavicle fractures. Studies that compared plate fixation with intramedullary fixation in patients with fresh unilateral displaced midshaft clavicle fractures were included. Dislocation or displacement had to be mentioned in the inclusion criteria of the study for inclusion in this review. The modified version of the Cochrane Bone, Joint and Muscle Trauma Group's former quality assessment tool was used. Furthermore, the studies included were scored according to the GRADE approach to assess the quality. The chosen studies were summarised in a data-extraction form. Because of the different study designs and characteristics data were summarised separately for each study.
Conclusions
High quality evidence from one study and low quality evidence from three studies showed no difference in functional outcome or complications after plate fixation or intramedullary fixation for displaced midshaft clavicle fractures.