01.12.2017 | Review | Ausgabe 1/2017 Open Access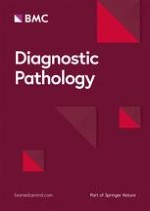 Pleural epithelioid angiosarcoma with lymphatic differentiation arisen after radiometabolic therapy for thyroid carcinoma: immunohistochemical findings and review of the literature
Zeitschrift:
Autoren:

Daniela Cabibi, Giulia Pipitone, Rossana Porcasi, Sabrina Ingrao, Ignazio Benza, Calogero Porrello, Massimo Cajozzo, Antonino Giulio Giannone
Abbreviations
CEA
Carcino-embrionic antigen
EMA
Epithelial membrane antigen
HBME-1
Hector Battifora Mesothelial-1
TTF1
Thyroid transcription factor
VATS
Video-Assisted Thoracotomy
Background
Angiosarcoma (AS) is a malignant neoplasm with endothelial differentiation, accounting for approximately 1–2% of all soft tissue sarcomas. Pleura represents an exceedingly rare site for AS, with about 50 cases reported in the literature [
1
]. Patients almost always die from the disease within months. The diagnosis of this rare pleural tumor is challenging, mimicking mesothelioma, pulmonary carcinoma, or metastatic adenocarcinoma, due to non-specific clinical and radiologic findings and to the positivity for epithelial markers, such as pan-cytokeratins (PanCK) and CK7. Markers of endothelial differentiation, such as CD31, CD34 and Factor VIII, are particularly useful in the identification of these tumors [
2
,
3
].
Lymphangiosarcoma (LAS) is even rare. Both AS and LAS typically arise about 10 years after axillary nodal dissection or radiation therapy for breast cancer with long-standing massive lymphedema [
4
] and have been reported in literature as Stewart-Treves Syndrome. LAS has been also evidenced after chronic lymphedema of lower leg [
5
]. In serous membranes, few cases of LAS have been reported after therapeutic irradiation [
6
].
We describe a case of primary pleural epithelioid AS with lymphatic differentiation, clinically and radiologically suspected as mesothelioma, arisen 9 years after radiometabolic therapy (RMT) for thyroid papillary carcinoma with multiple lymph node metastases. To the best of our knowledge, only one case of pleural epithelioid LAS has been previously reported [
1
]. It is noteworthy that this is the first reported case of pleural epithelioid AS with lymphangioendothelial differentiation arisen after RMT for thyroid carcinoma.
Case report
A 50 year-old male patient with a history of dyspnea was admitted to our hospital.
Past medical history
Nine years earlier, in another hospital, the patient underwent total thyroidectomy for papillary carcinoma with dissection of the back-left jugular lymph nodes, one of which metastatic.
The tumor was located in the upper half of the left lobe and had a maximum diameter of 4,5 cm. The histologic examination revealed a well differentiated papillary carcinoma, classical variant, with multiple microscopic foci in both lobes of the thyroid gland; the tumor stained positively for TTF1 and Thyroglobulin. One out of 8 lymph nodes was metastatic.
After six months, PET and total body scintigraphy evidenced the presence of lymph node metastases on the left side of the neck (level III and IV), and the patient underwent RMT with iodine-131 ( 131I, 100 mCi).
Subsequently, he was subjected to surgical lymphadenectomy of 22 cervical and supraclavicular lymph nodes, three of which metastatic. Due to the persistence of residual lymph node metastases, he underwent three cycles of RMT (100 mCi; 3,7GBq orally). So, he received a cumulative dose of 400 mCi. It is noteworthy that before the third cycle of RMT, the total body scintigraphy evidenced low and widespread 131I uptake in both lungs and in the para-medial left mediastinal area, leading to the suspicion of mediastinal and lung involvement. Thoracic PET and CT did not evidence nodular lesions, ruling out the suspicion of metastasis.
Finally, a new lymphadenectomy was performed, due to the persistence of metastases in 2/4 retro-clavear lymph nodes, in 4/22 level II left lymph nodes and in level III left lymph nodes.
Current medical history
The chest x-ray showed an opaque left hemithorax, saving a small central lung area with contralateral cardio-mediastinal shift [Fig.
1
]. CT images showed irregular circumferential pleural thickening with nodular soft tissue masses involving the mediastinal and diaphragmatic pleura, extending into the fissures and reducing the volume of the right lung. These features clinically suggested pleural mesothelioma, and multiple biopsies of the left parietal pleura were performed during Video-Assisted Thoracotomy (VATS).
×
On microscopic examination, the hematoxylin-eosin (H-E) sections of formalin-fixed paraffin-embedded biopsies showed a neoplastic proliferation of highly atypical epithelioid cells with mitoses and areas of necrosis. The tumor was composed of solid areas [Fig.
2a, b
] and "vasoformative" areas with variably sized anastomotic vascular spaces, lined by atypical endothelial cells with plump and prominent nuclei. Most of the vascular spaces were lacking of red blood cells and contained certain amounts of Alcian blue positive material [Fig.
2c, d
]. The immunohistochemical analysis showed positive immunostaining for Vimentin, CK7, D2–40 and focally for PanCK [Fig.
3a-d
], both in the vascular and in the solid areas. The vascular endothelial lining showed focal positivity for CD31 [Fig.
4a
].CD34, Factor VIII related-antigenand WT1 stained positively only in a few non-neoplastic vascular channels that were used as positive internal control [Fig.
4b-d
]. CD99 showed a paranuclear pattern and/or granular pattern of positivity [Fig.
4e
]. Nuclei of many tumor cells stained positively for c-MYC [Fig.
4f
]. Calretinin, CK5/6, EMA, HBME-1, TTF-1, Thyroglobulin and CEA stained negatively [Fig.
5a-g
]. The expression of Ki67 was high, with about 30% of positive neoplastic nuclei [Fig.
5h
]. Finally, negative immunostaining was evidenced for p63, Bcl-2, EpCAM and LNA-1 HHV8. The overall morphologic and immunohistochemical features supported the diagnosis of pleural malignant epithelioid vascular tumor, consistent with epithelioid AS with lymphatic differentiation.
×
×
×
×
Discussion
In our case, the presence of sinusoidal vascular channels lacking of red blood cells and containing amorphous Alcian blue positive substance, the marked cellular atypia, the presence of necrosis and numerous atypical mitoses, the high Ki67 expression and the positive immunostaining for CD31 and D2–40 were more consistent with the diagnosis of "epithelioid angiosarcoma with lymphatic differentiation".
Conclusions
In this case of c-MYC positive pleural angiosarcoma with lymphatic differentiation, a pathogenetic relationship between the pleural AS and the oncogenic effects of the ionizing radiations could be hypothesized. To the best of our knowledge, this is the first case of pleural AS with lymphatic differentiation following radiometabolic exposure for metastatic thyroid papillary carcinoma and the first pleural AS with lymphatic differentiation in which c-MYC positivity has been highlighted.
Acknowledgements
Not applicable.
Funding
No funding was received.
Availability of data and materials
All data generated or analyzed during this study are included in the below published article.
Ethics approval and consent to participate
Not applicable.
Consent for publication
Written informed consent for publication of their clinical details and/or clinical images was obtained from the patient. A copy of the consent form is available for review by the Editor of this journal.
Competing interests
The authors declare that they have no competing interests.
Publisher's Note
Springer Nature remains neutral with regard to jurisdictional claims in published maps and institutional affiliations.
Open Access
This article is distributed under the terms of the Creative Commons Attribution 4.0 International License (
http://​creativecommons.​org/​licenses/​by/​4.​0/​
), which permits unrestricted use, distribution, and reproduction in any medium, provided you give appropriate credit to the original author(s) and the source, provide a link to the Creative Commons license, and indicate if changes were made. The Creative Commons Public Domain Dedication waiver (
http://​creativecommons.​org/​publicdomain/​zero/​1.​0/​
) applies to the data made available in this article, unless otherwise stated.