07.02.2018 | Clinical Investigation | Ausgabe 6/2018 Open Access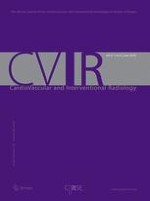 Polidocanol Sclerotherapy Combined with Transarterial Embolization Using
n

-Butyl Cyanoacrylate for Extracranial Arteriovenous Malformations
Zeitschrift:
Autoren:

Akira Kitagawa, Takahiro Yamamoto, Nozomu Matsunaga, Mayako Yamaji, Shuji Ikeda, Yuichiro Izumi, Makiyo Hagihara, Toyohiro Ota, Tsuneo Ishiguchi
Abstract
Purpose
To assess the safety and effectiveness of polidocanol sclerotherapy combined with transarterial embolization using a liquid adhesive agent (
n
-butyl cyanoacrylate, NBCA) for treatment of extracranial arteriovenous malformations (AVMs).
Materials and Methods
Twenty-three patients with symptomatic AVMs in the head and neck (6), upper (7) and lower extremity (10) with a mean age of 42 years (range 4–74) treated with polidocanol sclerotherapy were retrospectively assessed. AVMs were classified according to the angiographic morphology of the nidus. There were 2 type I, 6 type II, 6 type IIIa and 9 type IIIb. Arterial embolization using NBCA was performed to reduce arterial flow before sclerotherapy. Polidocanol mixed with contrast material or carbon dioxide was delivered by percutaneous direct puncture.
Results
Treatment was successfully performed in all patients. In the mean follow-up period of 38 months, symptoms resolved or improved in 20/23 patients (87.0%). AVMs were devascularized 100% in 2 patients, 76–99% in 13, 50–75% in 7 and < 50% in 1. More than 50% devascularization was seen in 22 patients (95.6%). Two (8%) patients had complete remission, 17 (74%) had partial remission and 3 (13%) had no remission. There was no aggravation. Treatment was considered effective (complete and partial remission) in 20 patients (87.0%). Minor complications including localized arterial thrombosis (2) and spontaneously healing skin ulcer (1) were seen in 2 patients (8.7%). There were no major procedure-related complications.
Conclusion
Polidocanol sclerotherapy combined with transarterial embolization using NBCA is safe and effective for treating extracranial AVMs with an acceptable risk of minor complications.