12.06.2017 | Original Article | Ausgabe 4/2017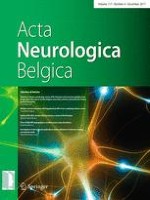 Polymorphism of the multidrug resistance 1 gene
MDR1

G2677T/A (rs2032582) and the risk of drug-resistant epilepsy in the Polish adult population
Zeitschrift:
Autoren:

Beata Smolarz, Dominik Skalski, Andrzej Rysz, Andrzej Marchel, Hanna Romanowicz, Marianna Makowska
Abstract
The aim of this study was to analyse the frequency of genotypes and alleles of single-nucleotide polymorphism (SNP)-G2677T/A (rs2032582) of
MDR1
gene and to investigate the significance this genetic variation exerts on drug-resistant epilepsy (DRE) in the Polish adult population. The study comprised 340 patients treated for DRE and 240 patients treated for drug-responsive epilepsy. Three hundred and sixty disease-free individuals were used as controls. Genomic DNA was isolated, and the SNP G2677T/A of
MDR1
was determined by High-Resolution Melter technique. Odds ratios (ORs) and 95% confidence intervals (CIs) were calculated for each genotype and allele. In this paper, we have demonstrated that A allele of SNP G2677T/A of
MDR1
may reduce the risk of DRE (OR 0.44; 95% CI 0.33–0.58,
p
< 0.0001), whereas allele G itself may be a risk factor for this disease. No differences were found in the distribution of the genotypes and alleles in the studied groups, depending on sex as well as on concomitant diseases (
p
> 0.05). G2677T/A polymorphism of
MDR1
may play a significant role in the development of DRE in the Polish patients.