01.12.2014 | Research | Ausgabe 1/2014 Open Access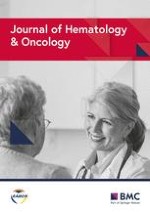 Polymorphisms in microRNA target sites modulate risk of lymphoblastic and myeloid leukemias and affect microRNA binding
Zeitschrift:
Autoren:

Agnieszka Dzikiewicz-Krawczyk, Anna Macieja, Ewa Mały, Danuta Januszkiewicz-Lewandowska, Maria Mosor, Marta Fichna, Ewa Strauss, Jerzy Nowak
Wichtige Hinweise
Electronic supplementary material
The online version of this article (doi:
10.​1186/​1756-8722-7-43
) contains supplementary material, which is available to authorized users.
Competing interests
The authors report no conflicts of interest.
Authors' contributions
ADK conceived the study, performed the experiments, analyzed the data, interpreted the results and wrote the manuscript. AM participated in the laboratory work. EM, MM and DJL recruited the patients. MF and ES recruited the control group. JN participated in the design of the study; DJL, MM and JN critically reviewed the manuscript. All authors read and approved the final manuscript.
Abbreviations
SNP
Single nucleotide polymorphism
miRSNP
miRNA-binding site polymorphism
ALL
Acute lymphoblastic leukemia
ceRNA
Competing endogenous RNA.
Background
MicroRNAs (miRNAs) are a class of small (~22 nucleotide) nocoding RNAs that are potent regulators of gene expression in animals and plants. In animals miRNAs bind to target sequences (usually located in the 3′ untranslated region [3′UTR]) in messenger RNAs (mRNAs) and act by negatively regulating gene expression. This binding requires complementarity between the nucleotides 2-8 of miRNA (so called "seed" region) and the target mRNA [
1
]. To date more than 2500 mature human miRNAs have been identified [
2
] and they are predicted to regulate over 60% of human protein-coding genes [
3
]. This regulatory network can be very complex as one miRNA may potentially regulate several mRNAs, and a given mRNA may possess in its sequence binding sites for several miRNAs.
Since miRNAs control a wide variety of biological processes, including proliferation, apoptosis and differentiation, dysfunctions of the miRNA regulatory network may contribute to tumorigenesis. MiRNAs can act as both oncogenes and tumor suppressors. Examples of oncogenic miRNAs that are amplified or overexpressed in cancers include miR-17-92 cluster, miR-21, miR-155 and miR-372/373, while tumor suppressor miRNAs commonly deleted or with reduced expression in cancers are represented by miR-15a and miR-16-1, miR-34 family, let-7 family and miR-29 [
4
]. MiRNAs play a crucial role in normal hematopoiesis by controlling the differentiation of hematopoietic stem cells into different types of mature blood cells, while deregulation of miRNA networks has been linked to hematological malignancies [
5
]. Aberrant miRNA expression profiles have been observed in leukemias and lymphomas, and for several miRNAs there is experimental evidence for their functional involvement in leukemogenesis [
6
,
7
]. Specific miRNA expression signatures can accurately discriminate different leukemia subtypes and are often of great prognostic relevance [
8
–
12
]. Changes in miRNA expression may result from genomic and epigenetic alterations or the impairment of miRNA biogenesis pathway [
13
]. In addition, polymorphisms in miRNA genes or miRNA target sites (miRSNPs) can modify miRNA action. While polymorphisms in miRNA genes are relatively rare, SNPs in miRNA-binding sites in target genes are more frequent. Several studies have shown that SNPs in miRNA target sites enhance or weaken the interaction between miRNA and its target transcripts and are associated with cancers and other diseases [
14
,
15
]. In leukemia, however, so far only one study associated a SNP in the 3′UTR of the
NPM1
gene with adverse outcome in acute myeloid leukemia [
16
].
Considering that miRNAs have been shown to play an essential role in leukemogenesis and that SNPs in miRNA-binding sites in target genes have been associated with various cancers, in this study we aimed at identifying miRSNPs associated with leukemia risk and assessing the impact of these miRSNPs on miRNA binding to target transcripts.
Results
Discussion
We are aware of some limitations of our study. The groups of leukemia patients were small, so the results should be treated as preliminary and need to be replicated in larger cohorts. Also, although we restricted our analysis to the miRNAs that are expressed in bone marrow, white blood cells or leukemias and lymphomas, the actual interaction of the analyzed miRNA-mRNA pairs in leukemic cells should be confirmed. Nonetheless, our study demonstrates that microRNA-binding site polymorphisms influence leukemia risk by interfering with the miRNA-mediated regulation of gene expression and underscores the significance of the variability in the 3′UTRs in leukemia.
Methods
Study groups
Since at the time when this study was conceived there were no reports on the association of miRNA-binding sites polymorphisms with leukemia, we decided to perform a pilot study in various leukemia types. The study comprised children diagnosed with acute lymphoblastic leukemia (ALL, n = 101) and adults with acute (AML, n = 87) and chronic myeloid leukemia (CML, n = 140) from oncology departments in Poznan, Poland. The control group (n = 471) was recruited among healthy blood donors with no history of cancer from Poznan Blood Centre. All protocols were carried out according to the Declaration of Helsinki. The study was approved by the Ethics Committee at the Poznan University of Medical Sciences (decision no 803/10) and informed consent was obtained from all subjects or their legal guardians.
Selection of polymorphisms
We analyzed 137 genes associated with leukemia according to Entrez Gene [
54
] as of April 2011. As such we defined genes which in the field 'Phenotypes' in the gene report were linked with susceptibility to any type of leukemia. The 3′UTR sequences were obtained from the University of California Santa Cruz genome browser [
55
] in April 2011. SNPs residing in 3′UTR of these genes were identified by searching dbSNP [
56
]. SNPs with minor allele frequency (MAF) greater than 0.05 in Caucasian population were analyzed by specialized algorithms and databases: miRanda [
17
], PITA [
18
], the Patrocles database [
19
] and the PolymiRTS database [
20
] regarding their potential impact on miRNA binding.
SNP genotyping
Genotyping was carried out on genomic DNA obtained from whole blood samples with TaqMan SNP Genotyping Assays (Applied Biosystems, Foster City, CA, USA) using the ABI PRISM® 7900HT Sequence Detection System and SDS 2.2 Software (Applied Biosystems). 15 ng of DNA was used per reaction. On each plate duplicate samples (5%), samples with known genotypes confirmed by direct sequencing and no template controls were run in parallel. The assays IDs are C__11160013_1_ (for
ARHGAP26
_rs187729), C___8866645_10 (for
TLX1
_rs1051723), C__30595554_20 (for
IRF8
_rs10514611), C___2280398_10 (for
ABL1
_rs7457), C___1576156_10 (for
IRF4
_rs1877176), C__16279225_10 (for
TLX1
_rs2742038), C__8899605_1_ (for
BCL11B
_rs1152781), C__2440679_10 (for
NBN
_rs2735383).
ETV6
_rs1573613 and
PML
_rs9479 were genotyped using Custom TaqMan SNP Genotyping Assays. The sequences for primers and probes are: for
PML
_rs9479 5′- TGCCCAAGAAAGAAACTTCTGTCA (forward primer), 5′- GCTATTGGCCAGGGACTCA (reverse primer), VIC-5′- CCTTGCACTCTCCTGTATT (probe 1), FAM-5′- CCTTGCACTCTCCTGTGTT (probe 2), and for
ETV6
_rs1573613 5′- GGCTGTGACAATTTACCGAAATGAT (forward primer), 5′- GCAAAAGGGAGTTCCTATTTCAAAAATGT (reverse primer), VIC-5′ CCACCTTTCACTGCCTAG (probe 1), FAM-5′- CACCTTTCACCGCCTAG (probe 2).
ATM
_rs227091 failed design of a custom TaqMan Assay and was therefore genotyped using the PCR-RFLP technique with the forward primer: 5′-GGCAAATTGTTCCAGGACAGC and reverse primer: 5′-AAGCCCTTCCCTTCCAACAG. PCR products were digested with
BsoBI
(New England Biolabs, Ipswich, MA, USA) and visualized on 2% agarose gel.
Reporter constructs
SNPs for which we found statistically significant differences between the control and study groups were tested for their impact on miRNA binding by luciferase assay. 1000-1300 bp fragments of 3′UTRs were amplified from DNA of homozygotes for the major allele. The forward primer contained
XhoI
restriction site for convenient cloning. Purified PCR products were cloned into pGEM®-Teasy vector (Promega, Fitchburg, WI, USA). Inserts containing variant allele for each SNP were obtained by site-directed mutagenesis using the Quik-Change II Site-Directed Mutagenesis Kit (Stratagene, La Jolla, CA, USA). Wild-type and variant inserts were then cleaved out using
XhoI
and
NotI
(Promega) and subcloned into psiCheck2 vector (Promega) downstream the
Renilla
luciferase reporter gene. This vector contains also the secondary reporter, firefly luciferase, used for transfection normalization. Each construct was sequenced to confirm the sequence and orientation of the insert.
Luciferase assay
Jurkat cells were plated on 24-well plate (2 × 10
5
cells per well) in RPMI with 10% fetal bovine serum without antibiotics and transfected in triplicate with 1 µg either empty psiCheck2 vector or psiCheck2 constructs containing 3′UTRs with wild-type and variant alleles, with miRNA mimics or inhibitors or miRNA negative control (50 pmol/well) (Ambion, Austin, TX, USA) using Lipofectamine 2000 (Invitrogen, Carlsbad, CA, USA), according to the protocol. Among the studied miRNAs, only miR-18a-3p is expressed in Jurkat cells according to the mimiRNA database [
22
], and for this miRNA we also included its inhibitor in the luciferase assay. 24 h post transfection luciferase activity was measured using Dual-Luciferase® Reporter Assay System (Promega) according to the manufacturer's protocol. All transfections were carried out three times.
Statistical analysis
Hardy-Weinberg equilibrium of the genotypes in the study groups was verified by the Chi-square test. The association between SNPs and leukemia risk was calculated by estimating the odds ratio (OR) and its 95% confidence intervals (CI) in the multivariate logistic regression analysis, adjusted for sex and age. To detect the best genetic model (dominant, additive or recessive) first we performed the Cochran-Armitage test for trend and the model with the highest likelihood was chosen for the logistic regression analysis. Benjamini-Hochberg false discovery rate (FDR) control method was used to correct for multiple comparisons in each leukemia group. The SNPs showing a significant or borderline significant (before applying FDR) association with leukemia risk were then analyzed for the effect of the total number of risk genotypes on leukemia risk in multivariate logistic regression analysis, adjusted for sex and age. Only samples without any missing genotype were included in the analysis: n = 468 for controls, n = 93 for ALL and n = 140 for CML. Normalized
Renilla
luciferase reporter gene expression levels were compared by Student's
t
test. P < 0.05 was considered statistically significant.
Acknowledgements
This project was supported by the Ministry of Science and Higher Education grant no N N401 570740.
This article is published under license to BioMed Central Ltd. This is an Open Access article distributed under the terms of the Creative Commons Attribution License (
http://​creativecommons.​org/​licenses/​by/​4.​0
), which permits unrestricted use, distribution, and reproduction in any medium, provided the original work is properly credited. The Creative Commons Public Domain Dedication waiver (
http://​creativecommons.​org/​publicdomain/​zero/​1.​0/​
) applies to the data made available in this article, unless otherwise stated.
Competing interests
The authors report no conflicts of interest.
Authors' contributions
ADK conceived the study, performed the experiments, analyzed the data, interpreted the results and wrote the manuscript. AM participated in the laboratory work. EM, MM and DJL recruited the patients. MF and ES recruited the control group. JN participated in the design of the study; DJL, MM and JN critically reviewed the manuscript. All authors read and approved the final manuscript.