01.11.2010 | Ausgabe 6/2010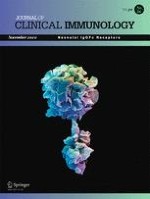 Polymorphisms of KIR Gene and HLA-C Alleles: Possible Association with Susceptibility to HLA-B27-Positive Patients with Ankylosing Spondylitis
Zeitschrift:
Autoren:

Yu-Lian Jiao, Bing-Chang Zhang, Li You, Jian-Feng Li, Jie Zhang, Chun-Yan Ma, Bin Cui, Lai-Cheng Wang, Zi-Jiang Chen, Yue-Ran Zhao
Wichtige Hinweise
Yu-Lian Jiao and Bing-Chang Zhang contributed equally to this work.
Abstract
Accumulating evidences indicate that killer cell immunoglobulin-like receptors (KIRs) and their corresponding specific HLA-C ligands contribute to the pathogenesis of multiple autoimmune diseases via the modulation of natural killer (NK) cell and T cell functions. The present study was performed to investigate whether the polymorphism of KIR genes and HLA ligands associates with the susceptibility of ankylosing spondylitis (AS). Previous studies have demonstrated a strong association between HLA-B27 gene and the pathogenesis of AS. In this study, 115 unrelated HLA-B27-positive AS patients and 119 HLA-B27-positive healthy controls were recruited. Polymerase chain reaction using sequence-specific primers was used to determine the genotypes of KIR genes and HLA-C alleles. The results showed that the frequencies of KIR2DL1 and KIR2DL5 were significantly higher in the AS patient group than those in the control group (
p
 = 0.012 and
p
 = 0.009, respectively). Meanwhile, individuals with AS showed an increased frequency of HLA-Cw*08 (
p
 = 0.001,
p
c
=
 0.008) compared with that in controls. Our findings indicate that with the genetic background of HLA-B27, variation at the KIRs and their corresponding specific HLA-C ligands may influence the ability of NK cells and T cells to recognize and lyse targets in immune responses, which thereby contributes to pathogenesis of AS.