18.08.2017 | Sleep Breathing Physiology and Disorders • Original Article | Ausgabe 2/2018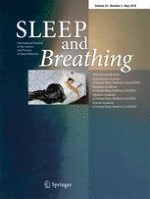 Polysomnographic determinants of requirement for advanced positive pressure therapeutic options for obstructive sleep apnea
Zeitschrift:
Autoren:

Anupama Gupta, Garima Shukla
Wichtige Hinweise
Comment
The days of the raw AHI and CPAP for all should be over. Phenpotyping respiratory abnormality and response to therapy using even standard information (e.g., REM vs. NREM dominance, response to positive airway pressure) is a simple start to what hopefully will be increasing clinical and applied mathematical sophistication of sleep apnea management.
Robert Thomas
Boston, USA
Abstract
Background
A small percentage of adult patients with severe obstructive sleep apnea (OSA) has been recognized to be extraordinarily difficult to treat with conventional continuous or Bi-level positive airway pressure (together referred to as PAP) therapy.
Aim and objectives
The aim of this study was to determine polysomnographic (PSG) characteristics, which may help predict the requirement for advanced therapeutic options for OSA.
Methods
Consecutive patients who underwent PAP titration at our sleep laboratory over a 2-year period were included. Patients with technically inadequate studies, those with incomplete titration due to intolerance, mask-related problems, or lack of sleep and those with significant co-morbidity and with other primary sleep disorders, were excluded. The PSGs (diagnostic + titration parts) were categorized into three types: type A (respiratory events evenly distributed over all sleep stages), type B (REM dominant respiratory events), and type C (non-REM dominant respiratory events, mainly during cyclic alternating pattern [CAP] sleep). Group A was further subdivided into A1 (those whose hypnogram normalized after adequate titration) and A2 (those whose hypnogram converted to a type C pattern on titration). These were categorized again into treatment group I (adequately PAP titrated) and group II (poor response to conventional PAP) for studying factors determining poor response to PAP.
Results
Among 249 patients evaluated in the sleep laboratory over the study period, 123 (103 males, mean age 49.9 ± 10.8 years, mean BMI 29.3 ± 4) fulfilled inclusion criteria. These could be grouped as type A (
n =
85), B (
n
= 33), and C (
n
= 5). On titration, 57 patients of type A and 21 of type B could be successfully titrated, while 24 in type A and 11 in type B, converted into type C. Therefore, in group II (
n
= 43), 38 patients fell in type C, overtly and after titration. Twelve of these had been successfully treated using adaptive servo ventilation (ASV) while another 28 could be treated using the Bi-level PAP-ST mode. The only PSG feature predicting poor response to conventional PAP was the presence of post-arousal central apnea (
p
= 0.001). The main difference between the A1 + B groups and A2 + C groups was the significantly higher non-REM apnea hypopnea index in the latter. Among these, on 1-year follow-up, eight patients were using Bi-level PAP-ST mode, while four patients were using ASV and were asymptomatic.
Conclusion
Non-REM sleep instability and the presence of post-arousal central apneas may be important determinants of poor response to conventional PAP and requirement for advanced therapeutic options among patients with severe OSA.