01.11.2015 | Clinical Article - Vascular | Ausgabe 11/2015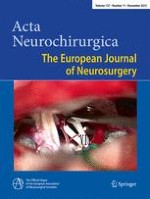 Poor diagnostic accuracy of transcranial motor and somatosensory evoked potential monitoring during brainstem cavernoma resection
Zeitschrift:
Autoren:

Ehab Shiban, Marina Zerr, Thomas Huber, Tobias Boeck-Behrends, Maria Wostrack, Florian Ringel, Bernhard Meyer, Jens Lehmberg
Wichtige Hinweise
Bernhard Meyer and Jens Lehmberg contributed equally as senior authors.
Comment
Resection of brainstem lesions remains challenging because of the high concentration of critical neural structures within a small space. Intraoperative monitoring (IOM) is a useful tool to assess the functional integrity of ascending and descending pathways within the brainstem. Brainstem auditory evoked potentials (BAEPs) and somatosensory evoked potentials (SSEPs) are IOM techniques that were first used during brainstem surgery. Over the past decade, motor-evoked potentials (MEPs) and corticobulbar MEPs have increased the reliability of neurophysiologic monitoring in brainstem surgery.
The authors are to be commended for being the first to present data on the predictive value of intraoperative monitoring during brainstem cavernoma resection. The importance of IOM during supratentorial tumor or vascular malformation resection is well documented, yet the authors present data that caution us to avoid terminating procedures prematurely when resecting lesions in the brainstem when changes in IOM are identified. This study can be the foundation of future studies that try to determine the safest way to utilise IOM when resecting brainstem lesions.
Stephen Johans
Christopher Loftus
Illinois, USA
Sala F, Squintani G, Tramontano V (2014). Intraoperative Neurophysiologic Monitoring During Brainstem Surgery. In: Loftus CM, Biller J, Baron EM (eds) Intraoperative Neuromonitoring. McGraw-Hill Education, New York, pp 285–297.
Abstract
Objective
Microsurgical resection of brainstem cavernomas carries a high risk of new postoperative morbidity such as cranial nerve, motor and sensory deficits as well as functional deterioration. Intraoperative monitoring is used to avoid impending damage to these highly eloquent tracts. However, data on neurophysiological monitoring during resection of brainstem cavernomas are lacking.
Methods
Consecutive patients with brainstem cavernomas who underwent surgical removal from June 2007 to December 2014 were retrospectively analysed. Transcranial motor-evoked potential (MEP) and somatosensory-evoked potential (SSEP) monitorings were performed in all cases. The evoked potential (EP) monitoring data were reviewed and related to new postoperative motor and sensory deficits and postoperative imaging. Clinical outcomes were assessed during follow-up.
Results
Twenty-six consecutive patients with brainstem cavernoma underwent 27 surgical resections within this study. MEP and SSEP monitoring was technically feasible in 26 and 27 cases, respectively. MEP sensitivity and specificity were 33 and 88 %, respectively. MEP positive and negative predictive values were 28 and 78 %, respectively. SSEP sensitivity and specificity were 20 and 81 %, respectively. SSEP positive and negative predictive values were 20 and 81 %, respectively.
Conclusion
In continuous MEP and SSEP monitoring during brainstem cavernoma microsurgery, high rates of false-positive and -negative results are encountered, resulting in low positive and relatively high negative predictive values. Careful interpretation of the intraoperative monitoring results is essential in order to avoid potentially unjustified termination of brainstem cavernoma resection.