28.01.2020 | Original Article | Ausgabe 3/2020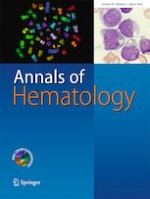 Poor prognosis in patients with diffuse large B cell lymphomas with bone marrow involvement possessing chromosomal abnormalities, despite aggressive treatment
Zeitschrift:
Autoren:

Gi-June Min, Young-Woo Jeon, Sung-Soo Park, Seung-Hawn Shin, Seung-Ah Yahng, Jae-Ho Yoon, Sung-Eun Lee, Byung-Sik Cho, Ki-Seong Eom, Yoo-Jin Kim, Seok Lee, Hee-Je Kim, Chang-Ki Min, Dong-Wook Kim, Jong-Wook Lee, Seok-Goo Cho
Wichtige Hinweise
Publisher's note
Springer Nature remains neutral with regard to jurisdictional claims in published maps and institutional affiliations.
Abstract
In 27% of diffuse large B cell lymphoma (DLBCL) cases, bone marrow (BM), assessed by BM biopsy, is involved. BM involvement, an extranodal site involvement, affects the International Prognostic Index (IPI) score adversely. However, chromosomal abnormalities are neither included as a prognostic factor nor are they considered in the IPI risk classification category. We retrospectively analyzed 600 DLBCL patients at diagnosis for BM involvement (by both BM biopsy immunohistochemistry [BMI] with karyotyping and 18-fluorodeoxyglucose-positron emission tomography [FDG-PET] high uptake [BMP]). The BM-involved DLBCL patients identified by both BMI and BMP showed significantly inferior survival outcomes. Chromosomal abnormalities, especially complex karyotype (CK) of the involved BM, are related to much worse survival outcomes due to the inadequate treatment response including frontline auto-hematopoietic stem cell transplantation (HSCT). Therefore, CK population should either be considered for more aggressive treatment modalities, such as frontline allo-HSCT, or those further clinical trials are explored for alternative or novel treatment approaches. Furthermore, if the FDG-PET shows high possibility of marrow involvement, bilateral BM biopsy with cytogenetic evaluation should be incorporated into the routine workup for newly diagnosed DLBCL patients. This is to look for other markers of poor-risk factors, such as CK or further genetic mutations.