09.12.2015 | Original Article | Ausgabe 5/2016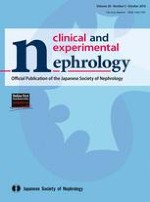 Population pharmacokinetics of mizoribine in pediatric patients with kidney disease
Zeitschrift:
Autoren:

Hisashi Kaneda, Masaki Shimizu, Kazuhide Ohta, Katsumi Ushijima, Yoshimitsu Gotoh, Kenichi Satomura, Takuhito Nagai, Mikiya Fujieda, Masashi Morooka, Takuji Yamada, Masayoshi Yamada, Naohiro Wada, Mari Takaai, Yukiya Hashimoto, Osamu Uemura
Abstract
Background
The present study aimed to obtain information enabling optimisation of the clinical effect of mizoribine (MZR) in pediatric patients with kidney disease.
Methods
A total of 105 pediatric patients with kidney disease treated at our institutions were enrolled. Kidney transplant patients were excluded. Population pharmacokinetic analysis of MZR was performed based on serum concentration data. Area under the curve from time zero to infinity (AUC
∞
) and maximal concentration (
C
max
) were calculated by Bayesian analysis.
Results
In children, the appearance of MZR in the blood tended to be slower and the subsequent rise in blood concentration tended to be more sluggish, compared to healthy adults. Apparent volume of distribution and oral clearance were also higher in children compared to adults. A significant positive correlation was observed between patient age and AUC
∞
. There were significant differences of AUC
∞
and
C
max
by age group. No relationship was observed between the administration method of MZR and serum concentration.
Conclusion
The pharmacokinetics of MZR was different in children compared to adults. To obtain the expected clinical efficacy, the regular MZR dosage schedule (2–3 mg/kg/day) might be insufficient for pediatric patients. In particular, younger patients might require a higher dosage of MZR per unit body weight.