01.12.2010 | Review | Ausgabe 1/2010 Open Access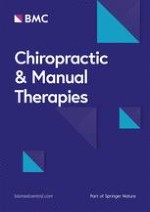 Possible adverse events in children treated by manual therapy: a review
Zeitschrift:
Autor:

B Kim Humphreys
Wichtige Hinweise
Competing interests
The author declares that he has no competing interests.
Introduction
In Switzerland where chiropractic in now part of the medical profession, 22% of chiropractors receive weekly to monthly referral of pediatric patients from pediatricians. A 2009 Job Analysis of Swiss chiropractors revealed 91% of those surveyed reported treating patients aged between 6-17 years with 78% treating patients less than 5 years of age (Humphreys BK, Peterson CK, Mühlemann D, Heuter P. Unpublished data).
The purpose of this review article is to look at the best available evidence related to possible adverse events in children treated by Ped MT.
Review
Discussion
The application of manual therapy, particularly spinal manipulation to pediatric patients continues to be controversial. Of paramount importance to patients, parents, healthcare practitioners or the general public is the issue of safety and quality of care. The focus of this article was the issue of safety in terms of possible adverse events associated with pediatric manual therapy. A discussion of the appropriateness, efficacy or effectiveness is discussed elsewhere and is not in the scope of this report [
7
].
It is clear from a review of the literature that adverse events, including SAEs leading to permanent neurological disabilities, have been identified. Although SAEs involving death have also been reported, much of the data is sketchy at best with important information regarding type or schedule of treatment missing [see [
15
], Table one, page e278]. As tragic as an SAE involving death may be, it is of interest that such an event possibly associated with Ped MT has not been reported in the literature for almost 40 years [
20
]. Other SAEs which have resulted in permanent neurological consequences have been reported. However all of these were attributable to a misdiagnosis leading to the inappropriate application of SMT with unfortunate consequences. A narrative review by Pistolese in 1998 [
37
] of neurological or vertebrobasilar accidents after PSMT gave an estimate of one in 250 million PSMT. However this report has been criticized due to likely underreporting, although the authors do not offer any evidence for this opinion other than spontaneous reporting of AE likely leads to underreporting [
15
].
There are now three reports in the literature regarding prevalence or rates of adverse events associated with Ped MT as well as a recent systematic review of manual therapy [
11
,
12
,
16
,
30
].
Hayes and Bezilla [
30
] found that 9% of pediatric patients experienced an aggravation of their symptoms after Osteopathic SMT, none of which were serious complications,. Miller and Benfield [
16
] reported one in 100 patients, or a 1% rate, while Alcantara et al [
14
] reported a one in 1,812 patients or a 0.53% rate for AE and PSMT. It is possible that the higher AE rate in the Miller and Benfield [
16
] study could be attributed to pediatric patients being treated by chiropractic interns rather than fully qualified and experienced chiropractic practitioners and that AE were based on parents' report of crying which may be difficult to attribute solely as a result of PSMT [
14
]. Of primary importance is that none of the three studies reported SAEs and that all AEs identified were minor (mild signs or symptoms, transient, no specific medical intervention necessary). However, as discussed previously, retrospective file reviews are subject to a variety of biases and errors [
12
]. Consequently their results should be treated with caution. More, higher quality studies are needed to specifically address the issue of AE rates for pediatric manual therapy.
Nevertheless, it is interesting to note that AE rates for Ped MT are less than those for SMT in adult patients. From 30-56% of adult patients undergoing SMT report minor AE such as increased pain, stiffness, soreness, headache, etc.) compared to around 1% after Ped MT [
32
–
36
,
38
]. However, of note, no SAEs have been reported in any of the clinical studies for both adults and pediatric patients undergoing SMT [
12
,
14
,
16
,
31
,
33
–
35
]. More research is needed particularly in the pediatric population to confirm whether this is because MT is safe or because there is under reporting of adverse events [
15
,
38
,
39
].
The recent systematic review by Carnes et al [
12
] on adverse events and manual therapy, although focused on adverse events in all age groups after manual therapy, provides the most useful research information to date. The authors explored the incidence and risk of adverse events with manual therapies from a systematic review and meta-analysis of the current body of research literature on manual therapy.
The authors concluded that of the eight cohort studies and 31 RCTs included in their review, mild to moderate adverse events is common after MT; usually after the first treatment, occurring within 24 hours and resolving within 48 hours. However, serious adverse events are uncommon and when compared to other therapies for the same conditions, it was more than general practitioner care, the same as for exercise treatment but less than medication [
12
]. In particular, Based on best estimates, Carnes et al estimated that 0.13% of manual therapy treatments may result in a SAE [
12
]. The study by Thiel et al [
33
] estimated the risk of a SAE to occur in 0.01% of adult SMT treatments.
Limitations of Current Evidence
All research is subject to limitations. Much more research is needed to better understand adverse events associated with pediatric manual therapy. In particular high quality studies directly focused on identifying adverse events with Ped MT are lacking. The best evidence currently comes from studies of adults treated by MT particularly SMT. There are no similar high quality studies of pediatric patients and MT.
As identified above, there are a number of possible methodological problems with investigating Ped MT in general as well as adverse events in particular. The categorization of manual therapy is broad and includes advice, touch, massage, mobilization as well as high velocity manipulation. This creates problems with identifying exactly what treatment or treatments have been given and how to compare them. Time between treatments also provides challenges in order to compare treatment outcomes as well as treatment schedules. Other problems include patients who are being co-treated by other healthcare practitioners and/or self-medicating. Patient or practitioner bias is also a major factor as the patient may feel compelled to under report adverse events and over report positive treatment outcomes. On the other hand, some patients whose treatment expectations have not been achieved may over report adverse events and under report any improvement.
Recording and reporting patient outcomes and adverse events also pose potential problems such as missing or incomplete data; inaccurate transcription or reporting of data and the use of outcome measures that are insufficient in terms of validity, reliability and clinical responsiveness.
It is clear that more high quality clinical studies are needed specifically designed to investigate adverse events in pediatric manual therapy. Until better research is available, patients and clinicians must rely mainly on the evidence provided by studies of adverse events associated with manual therapy in adults.
Conclusions
The purpose of this report was to review the current state of evidence regarding possible adverse events associated with pediatric manual therapy. Unfortunately very few high quality studies are currently available in this area. Most evidence comes from studies on adult patients and spinal manipulative therapy. From these studies, current evidence suggests that minor or moderate adverse events after manual therapy are common but that serious adverse events are rare. Manual therapy such as spinal manipulation in adults appears to have significantly fewer serious side effects compared to medication but equal to exercise prescription. Much more research specifically directed at identifying possible adverse events associated with pediatric manual therapy is needed.
Acknowledgements
Dr. Cynthia Peterson for her review and helpful comments
This article is published under license to BioMed Central Ltd. This is an Open Access article distributed under the terms of the Creative Commons Attribution License (
http://​creativecommons.​org/​licenses/​by/​2.​0
), which permits unrestricted use, distribution, and reproduction in any medium, provided the original work is properly cited.
Competing interests
The author declares that he has no competing interests.