01.12.2017 | Research article | Ausgabe 1/2017 Open Access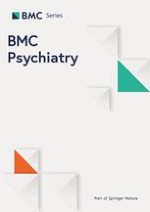 Possible factors influencing the duration of hospital stay in patients with psychiatric disorders attempting suicide by jumping
Zeitschrift:
Autoren:

Tsubasa Omi, Hiroshi Ito, Keisen Riku, Koji Kanai, Hiromune Takada, Satoshi Fujimi, Hidenori Matsunaga, Kazutaka Ohi
Abstract
Background
Patients with psychiatric disorders have a high rate of suicide. The present study investigated factors influencing hospital stays for Japanese patients with psychiatric disorders attempting suicide by jumping.
Methods
We diagnosed all suicide attempts (
n
= 113) by jumping based on the International Classification of Diseases 10th Revision (ICD-10) and investigated the mean hospital stays of patients with each diagnosis based on the ICD-10 code. We then analyzed differences in the demographic and clinical characteristics between the diagnostic groups to identify factors influencing the duration of hospital stay.
Results
Patients diagnosed with schizophrenia (F2 code) were the most frequent (32.7%) of all diagnoses; therefore, we divided the diagnostic groups into schizophrenia group (
n
= 37) and other psychiatric diagnoses group (
n
= 76). The patients with schizophrenia showed a significantly longer hospital stay (125.7 ± 63.9 days) compared with the patients with other psychiatric diagnoses (83.6 ± 63.2) (
β
±
SE
= 42.1 ± 12.7,
p
= 0.0013), whereas there was no difference in the jump height between the two groups (the average was the 3rd to 4th floor;
p
> 0.05). The number of injured parts, particularly lower-limb fractures, was significantly higher (
p
= 0.017) in patients with schizophrenia than in patients with other psychiatric diagnoses. The duration of psychiatric treatment in patients with schizophrenia were significantly longer (
z
= 3.4,
p
= 0.001) than in patients with other psychiatric diagnoses.
Conclusion
Our findings indicate that the number of injuries and the body parts injured in patients with schizophrenia are associated with a longer duration of hospital stay following a suicide attempt by jumping. The current use of antipsychotics and a longer duration of taking antipsychotics might contribute to the risk of bone fracture via hyperprolactinemia. Further cognitive impairment in patients with schizophrenia might prevent rehabilitation for the management of lower-limb fractures. From these results, we suggest that clinicians should monitor the level of prolactin and cognitive function in patients with schizophrenia in future studies on managing of lower-limb fractures.