01.12.2018 | Research article | Ausgabe 1/2018 Open Access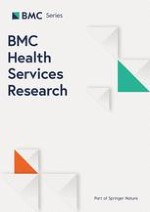 Post-stroke care after medical rehabilitation in Germany: a systematic literature review of the current provision of stroke patients
Zeitschrift:
Autoren:

Isabelle Hempler, Kathrin Woitha, Ulrike Thielhorn, Erik Farin
Wichtige Hinweise
Electronic supplementary material
Abstract
Background
Although Germany's acute care for stroke patients already has a good reputation, continuous follow-up care is still not widely available, a problem originating in the strict separation of inpatient and outpatient care. This gap in the German health care system does not just lead to patients' potential readmission to inpatient care and compromise the sustainability of what they have accomplished during medical rehabilitation; it also places a burden on caregivers.
Methods
To illustrate the current procedures on follow-up care of stroke patients in Germany, a systematic literature search was conducted to gather all available evidence. Research articles in the English or German language were searched between 2007 and 2017. Different study designs ranging from non-experimental descriptive studies, expert reports and opinions were included and categorised by two independent researchers. Relevant data was electronically searched through international and national databases and incorporated in a summary grid to investigate research outcomes and realise a narrative synthesis.
Results
A literature search was conducted to identify all relevant information on how current follow-up care is carried out and evaluated in Germany. We identified no systematic reviews on this topic, but included a total of 18 publications of various original studies, reviews and expert opinions. Included study populations also differed in either: experts, caregivers or stroke patients, including their viewpoints on the outpatient care situation of stroke patients; to capture their need for assistance or to investigate caregivers need and use for assistance. So far there is no standardised follow-up care in Germany, but this review reveals that multidisciplinary cooperation within occupational groups in outpatient rehabilitation is a key item that can influence and improve the follow-up care of stroke patients.
Conclusion
This review was conducted to provide a broadly based overview of the current follow-up care of stroke patients in Germany. Both the new implementation of a standardised, discharge service that supports early support, to be initiated this year and numerous approaches are promising steps into the right direction to close the follow-up gap in German health care provision.