01.12.2018 | Research article | Ausgabe 1/2018 Open Access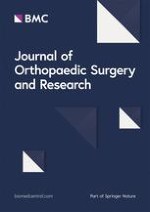 Posterior hemivertebra resection with unilateral instrumented fusion in children less than 10 years old: preliminary results at minimum 5-year follow-up
Zeitschrift:
Autoren:

Xuhong Xue, Sheng Zhao
Abstract
Background
The main treatment for congenital hemivertebra is posterior hemivertebrectomy with bilateral transpedicular fixation. To date, studies describing posterior unilateral fusion are few, especially in younger children. The modified method by posterior hemivertebrectomy combined with unilateral transpedicular instrumentation and fusion was described. The purpose was to present the clinical and radiological outcome of children less than 10 years treated for congenital scoliosis with posterior hemivertebrectomy and unilateral instrumented fusion.
Methods
A study of 43 consecutive patients through Jan. 2006 to Mar. 2013 for hemivertebrae in children less than 10 years was performed. Patients undergoing hemivertebrectomy and posterior convex short-segment fusion, which had been followed up for at least 60 months, were included. Coronal main curve, kyphosis, T1-S1 height, fused vertebra height, and concave height were measured at preoperation, immediate postoperation, and final follow-up. The outcome and efficacy of the correction provided and growth of the non-fused concave side of the spine was investigated.
Results
The average follow-up period was 73.88 ± 16.77 months. The mean Cobb angle of the coronal curve was improved from 46.1 to 8.1° (correction rate 82.4%). At final follow-up, there was 7.8% loss of correction. The average concave height, fusion segment height, and T1-S1 height were 60.1 ± 19.7 mm, 56.9 ± 22.9 mm, and 326.6 ± 64.5 mm in immediate postoperation, which improved to 73.1 ± 23.7 mm, 71.2 ± 22.0 mm, and 388.7 ± 78.9 mm at the last follow-up. These parameters were significantly different between the immediate postoperation and at final follow-up. The rate of reoperation was 9.3% (4/43), mainly in PJK and curve progression after surgery.
Conclusions
Despite with some complications, posterior hemivertebrectomy and unilateral instrumented fusion are commendable procedures. We concluded that it is a simple, secure, reliable, less-invasive, and well-tolerated technique that can successfully resolve this kind of congenital scoliosis in children.