01.01.2012 | Original Article | Ausgabe 1/2012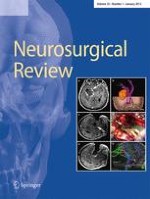 Posterior petrous bone meningiomas: surgical experience in 53 patients and literature review
Zeitschrift:
Autoren:

Matthieu Peyre, Alexis Bozorg-Grayeli, Alain Rey, Olivier Sterkers, Michel Kalamarides
Wichtige Hinweise
Comments
Sunil Manjila, Nicholas C. Bambakidis, Cleveland, USA
We read with interest the clinical case series of 53 cases of posterior petrous meningiomas, with special attention to the facial nerve function and serviceable hearing loss; their surgical outcome is impressive at 35 months of mean follow-up. The established facts about these lesions are reassertained: more anterior lesions are less amenable to GTR, residual tumors are commonly left in the petrous apex/cave area, subtotal resections are reserved for debilitated patients and poor brainstem interface, and cumbersome hearing and facial nerve preservation with advanced tumors. It is noted that the authors have used transpetrous approaches in majority of the patients (57%) compared with the common workhorse approach—retrosigmoid suboccipital approach. We agree with the use of these approaches in selected circumstances, though we feel that acceptable Simpson grades of resection can be achieved using a standard retrosigmoid approach. We reserve use of combined transpetrosal approaches in cases in which tumors are located entirely medial to the internal acoustic meatus and span both the posterior and middle cranial fossae. In most of such cases, we attempt to preserve hearing unless it has been preoperatively compromised or if tumor size dictates that a greater degree of exposure is required.
Andreas Raabe, Bern, Switzerland
In this interesting paper, the authors classify the risk of surgery of posterior petrosal tumors according to their location in respect to the internal auditory canal. Their series is large and the classification makes sense, however, it is not surprising. In our institution, we do not always consider tumors of the posterior petrous bone to threaten the VII/VIII nerve but only those in contact with the internal auditory canal. This is confirmed by the functional results of this study with a 100% preservation rate for the facial nerve in the petrous apex and posterior petrous tumors. Tumors of the internal auditory canal and CPA-meningiomas with invasion of the internal auditory canal had less favorable facial nerve preservations of 75% and 53%. As expected, the results of hearing preservation are less favorable but show a similar risk distribution. Interestingly, the authors used predominantly transpetrous approaches, contrary to our practice of using retrosigmoid approach for most cases. This may be explained by the fact that we do not follow the rule of the authors to always attack a meningioma from the site of dural attachment. This is certainly the best approach in terms of interrupting the blood supply and complete tumor resection but not necessarily for a multimodal treatment concept focusing on preservation of the facial and hearing nerve. Subtotal resection can also be the surgical goal for tumors invading the internal auditory canal followed by radiosurgical treatment. I would just repeat one of the key statements of the article: "In an era of multimodal treatment, gross-total resection is not mandatory to achieve functional preservation and good tumor control." The authors should be congratulated for their study, techniques, and outcomes.
Abstract
Meningiomas of the posterior fossa represent a heterogeneous group of tumors regarding difficulty of resection and functional outcome. The aim of this review was to focus on tumors located mainly on the posterior surface of the petrous bone and threatening hearing and facial functions. An anatomical classification was used to evaluate surgical outcome depending on the relationship of the tumor to the internal auditory meatus. The authors performed a retrospective chart review of 53 consecutive patients operated on for a posterior petrous bone meningioma in a tertiary referral center and a literature review. Tumors were classified in four groups according to the modified Desgeorges and Sterkers classification: posterior petrous (P; 17 tumors), meatus and internal auditory canal (M; 12 tumors), petrous apex without invasion of the internal auditory canal (A; 9 tumors), and cerebellopontine angle with invasion of the internal auditory canal (AMP; 15 tumors). The facial function was preserved in 100% of P and A tumors, 75% of group M tumors, and 53% of AMP tumors. Hearing preservation was attempted only in P, A, and M groups where rates of serviceable hearing preservation were 82%, 80%, and 66%, respectively. The cumulative rate of hearing preservation for AMP tumors was 45% in our literature review. The increased facial morbidity associated with AMP tumors compared with other groups was also confirmed by the review of the literature. In conclusion, this study shows that among posterior petrous bone meningiomas, tumors invading the internal auditory canal present with increased postoperative functional morbidity in spite of a tailored approach regarding dural insertion.