13.09.2017 | Original Article | Ausgabe 4/2017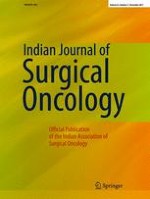 Postoperative Delirium in Indian Patients Following Major Abdominal Surgery for Cancer: Risk Factors and Associations
Zeitschrift:
Autoren:

Vibhawari Dhakharia, Subir Sinha, Jaydip Bhaumik
Abstract
Postoperative delirium (POD) is not uncommon following major abdominal surgery with its incidence ranging between five and 51%. As cancer affects disproportionately, the population older than 65 years and as delirium is more common in the elderly, surgical oncology patients are at a higher risk of developing POD. The present study was undertaken to explore the impact and associations of POD in Indian patients undergoing oncological major abdominal surgery. A retrospective review of the electronic medical records in a tertiary cancer care institution of all postoperative patients who had undergone major gastrointestinal gynaecological and urological abdominal surgery for cancer and required psycho-oncology referral was performed. Patient, surgery and postoperative outcome-related data were collected. Statistical analysis was performed using univariate and multivariate logistic regression analysis. Out of 824 patients who underwent major abdominal surgery, 33 patients (4.0%) were diagnosed with POD. In univariate analysis, older age and history of addiction were found to be statistically significantly associated with POD (
p
< 0.001). Among the postoperative factors, respiratory complications (
p
< 0.001), sepsis (
p
< 0.05), ICU stay > 24 h (
p
< 0.05) and electrolyte impairment (
p
< 0.05) were the significant associations with the POD. Thirty-day mortality was higher in the POD group (
p
< 0.05). In multivariate logistic regression analysis, advanced age, addictions, respiratory complications and sepsis were found to be significant associations with POD,
p
< 0.001. Postoperative delirium is associated with higher mortality. Older age, postoperative respiratory complications and sepsis are common contributory factors of postoperative delirium.