01.12.2018 | Research | Ausgabe 1/2018 Open Access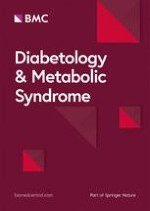 Postpartum follow up of gestational diabetes in a Tertiary Care Center
Zeitschrift:
Autoren:

C. A. Cabizuca, P. S. Rocha, J. V. Marques, T. F. L. R. Costa, A. S. N. Santos, A. L. Schröder, C. A. G. Mello, H. D. Sousa, E. S. G. Silva, F. O. Braga, R. C. Abi-Abib, M. B. Gomes
Abstract
Background
Gestational diabetes is a risk factor for future development of type 2 diabetes. The primary aim of this study was to estimate the prevalence of postpartum glucose tolerance status evaluation in pregnancies complicated by gestational diabetes 6–12 weeks after delivery. The secondary one was to identify the factors that are implicated with postpartum glucose retesting.
Methods
This was a retrospective study performed with a cohort of women with gestational diabetes, with prenatal care and delivery at a tertiary care center, from January 2013 to April 2017. The diagnosis of gestational diabetes was based on IADPSG criteria (Fasting ≥ 92 mg/dl, 1 h ≥ 180 mg/dl and/or 2 h ≥ 153 mg/dl, respectively) and the diagnosis of type 2 diabetes and prediabetes were made using the 2016 ADA's criteria (fasting and 2 h after glucose load ≥ 126 mg/dl and/or ≥ 200 and 100–125 mg/dl and/or 140 and 199 mg/dl, respectively). All women had an appointment scheduled 6–12 weeks postpartum with the results of a 75-g oral glucose tolerance test (OGTT).
Results
Of the 152 evaluated women, 21 (13.8%) returned with the postpartum OGTT results. Of these, 9 (45.0%) had a diagnosis of prediabetes. The use of insulin during gestation was the only factor implicated in a higher adherence rate to postpartum testing OR 6.33 (p 0.002). No significance was found for other demographic and clinical variables (age, family income, years of study, parity, gestational age at first visit, smoking, family history of type 2 diabetes, diagnosis of gestational diabetes before the third trimester, pregestational body mass index, previous history of gestational diabetes and ethnicity).
Conclusion
The majority of patients with gestational diabetes did not return postpartum to perform OGTT and in our study the only factor implicated in a higher postpartum return was the use of insulin during pregnancy. Considering that 45.0% were diagnosed with prediabetes, diabetes care teams should initially identify non-adherent patients.