17.09.2016 | Sonderheft 1/2016 Open Access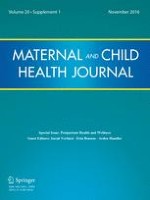 Postpartum Health Information Seeking Using Mobile Phones: Experiences of Low-Income Mothers
Zeitschrift:
Autoren:

Lucia Guerra-Reyes, Vanessa M. Christie, Annu Prabhakar, Asia L. Harris, Katie A. Siek
Abstract
Objectives
To assess low-income mothers' perceptions of their postpartum information needs; describe their information seeking behavior; explore their use of mobile technology to address those needs; and to contribute to the sparse literature on postpartum health and wellness.
Methods
Exploratory community-based qualitative approach. Interviewees were recruited among clients of community partners and had children aged 48 months and under. A survey assessing demographics was used to identify low-income mothers. 10 low-income mothers were recruited from survey participants to complete in-depth interviews regarding postpartum information needs, information seeking, and technology use. Interviews were transcribed verbatim and coded by three researchers independently. Narratives were analyzed along predetermined (etic) and emergent (emic) categories.
Results
Establishing breastfeeding and solving breastfeeding problems were central postpartum concerns leading to information seeking. Interviewees reported almost exclusive use of mobile phones to access the Internet. Mobile applications were widely used during pregnancy, but were not valuable postpartum. Face-to-face information from medical professionals was found to be repetitive. Online information seeking was mediated by default mobile phone search engines, and occurred over short, fragmented time periods. College graduates reported searching for authoritative knowledge sources; non-graduates preferred forums.
Conclusions for Practice
Low-income postpartum women rely on their smartphones to find online infant care and self-care health information. Websites replace pregnancy-related mobile applications and complement face-to-face information. Changes in searching behavior and multitasking mean information must be easily accessible and readily understood. Knowledge of page-rank systems and use of current and emergent social media will allow health-related organizations to better engage with low-income mothers online and promote evidence-based information.