01.12.2018 | Case report | Ausgabe 1/2018 Open Access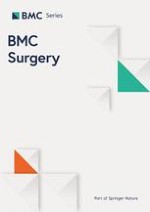 Posttraumatic venous gas in the liver – a case report and review of the current literature
Zeitschrift:
Autoren:

René Fahrner, Falk Rauchfuss, Hubert Scheuerlein, Utz Settmacher
Abstract
Background
There are numerous causes of hepatic gas formation that range from serious pathologies to incidental findings, including mesenteric infarction, liver abscess, inflammatory bowel disease or minimally invasive hepatic interventions.
Case presentation
We report a case of a 50-year-old man who was admitted to the emergency room after a car accident. The clinical examination and further diagnostics revealed a craniocerebral injury with a fracture of the skull, concomitant soft tissue lesions and subarachnoidal bleeding. Furthermore, a blunt thoracic trauma with hemopneumothorax due to rib fractures was treated with a chest tube. No obvious abdominal pathology was seen. While in the operating theatre for the surgical revision of the cranial soft tissue lesions, a femoral venous catheter was inserted without any complications. A routine ultrasound of the abdomen six hours after the trauma revealed unclear hepatic gas formation. A contrast-enhanced computer tomography (CT) scan of the abdomen was performed, and the gas formation was found to be localized within the left hepatic vein. Afterwards, there was no specific treatment of the hepatic venous gas formation, as no alterations of liver function or liver enzymes were seen. The further course of the patient was uneventful regarding the gas formation in the liver, and another ultrasound two days later revealed no further gas in the liver.
Conclusions
The placement of a femoral venous catheter is a risk factor for gas formation in liver veins. No further treatment is needed in cases with stable liver function. To rule out serious pathologies, diagnostic findings (e.g., ultrasound, CT), clinical history and underlying diseases need to be analyzed carefully after the detection of intrahepatic gas formation. With contrast-enhanced CT, the localization of the gas and its potential causes might be detectable.