01.12.2017 | Research article | Ausgabe 1/2017 Open Access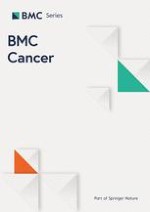 Potential importance of protease activated receptor (PAR)-1 expression in the tumor stroma of non-small-cell lung cancer
Zeitschrift:
Autoren:

Cong Lin, Christof J. Majoor, Joris J. T. H. Roelofs, Martijn D. de Kruif, Hugo M. Horlings, Keren Borensztajn, C. Arnold Spek
Wichtige Hinweise
Electronic supplementary material
The online version of this article (doi:
10.​1186/​s12885-017-3081-3
) contains supplementary material, which is available to authorized users.
Abbreviations
EpCAM
Epithelial cell adhesion molecule
FAP
Fibroblast activation protein alpha
NSCLC
Non-small-cell lung cancer
PAR-1
Protease activated receptor-1
PECAM-1
Platelet endothelial cell adhesion molecule-1
α-SMA
Alpha-smooth muscle actin
Background
Methods
Patients
Tissue microarrays (TMAs, triplicate cores per case) were prepared with tumor sections obtained from NSCLC patients during surgery according to the guidelines of the Medical Ethical Committee of the Academic Medical Center of Amsterdam. The TMAs consist of samples from 94 patients with NSCLC, including 40 cases of adenocarcinoma (ADC), 42 cases of squamous cell carcinoma (SCC) and 12 cases of other type of NSCLC at different stages (Table
1
). On each TMA, 3 cases of healthy lung tissue (i.e. adjacent normal tissue) were also included.
Table 1
Patient characteristics
Characteristic

Patient

N

%

Male

63

67

Median Age (Range)

66

(30–86)

Progression

26

36

Tumor type:

 Adenocarcinoma

40

42.5

 Squamous cell carcinoma

42

44.7

 Other type*

12

12.8

Tumor differentiation:

 Well differentiated

6

10.4

 Less differentiated

30

51.7

 Little differentiated

14

24.1

 Poorly differentiated

8

13.8

NSCLC stage:

 I

53

57.6

 II

28

30.4

 III

10

10.9

 IV

1

1.1

Lymph node metastasis

14

15.2
Mining of publically available RNA microarray dataset
The datasets were derived from Gene Expression Omnibus (
http://​www.​ncbi.​nlm.​nih.​gov/​gds
) using the R2 microarray analysis and visualization platform (
http://​r2.​amc.​nl
). Correlation of gene expression between PAR-1 and markers of different stromal cell types in NSCLC cancer patients were derived by the R2 program from five different datasets, including Bild (
n
 = 114, GSE3141), Peitsch (
n
 = 150, GSE43580), EXPO (
n
 = 121, GSE2109), Mao (
n
 = 124, GSE 31852) and Hou (
n
 = 156, GSE 19188).
Immunohistological analysis
Four-μm sections were first deparaffinized and rehydrated. Endogenous peroxidase activity was quenched with 0.3% H2O2 in methanol. PAR-1 staining was performed with a primary antibody specific for PAR-1 (ATAP-2 ;1:200; SC-13503, 24 h at 4 °C, Santa Cruz, San Diego, CA) [
19
,
20
]. A horseradish peroxidase-conjugated polymer detection system (ImmunoLogic, Duiven, the Netherlands) was applied for visualization, using an appropriate secondary antibody and diaminobenzidine staining. Specimens with PAR-1 immunostaining were reviewed jointly at a multi-head microscope by 2 investigators blinded to the patients' clinical status. To evaluate immunohistochemical expression of PAR-1, the intensity of PAR-1 staining was graded by consensus on a scale from 0 to 3 (0 = negative staining; 1 = weakly positive; 2 = moderately positive; 3 = strongly positive). Slides were photographed with a microscope equipped with a digital camera (Leica CTR500).
Statistics
Statistical analyses were conducted using GraphPad Prism (GraphPad software, San Diego). Comparisons between conditions were analyzed using two tailed unpaired t-tests when the data were normally distributed; otherwise Mann–Whitney analysis was performed. Results are expressed as mean ± SEM,
P
values < 0.05 are considered significant.
Results
PAR-1 gene expression is correlated with lung tumor stroma activation
To explore the association of PAR-1 expression with the NSCLC stroma, we correlated PAR-1 gene expression levels with specific markers of different stromal cell types, including macrophages, endothelial cells, epithelial cells and (myo) fibroblasts in resected tumor specimens using publicly available microarray datasets. To this end, 3 markers were selected for each stromal cell type, except for (myo) fibroblasts for which we included markers of differentiated fibroblasts and markers for extracellular matrix (ECM) produced by myofibroblasts. Interestingly, tumors with higher PAR-1 levels also displayed elevated expression levels of markers for macrophages, endothelial cells and (myo) fibroblasts on the microarrays. Using the GSE3141 dataset (Fig.
1
), PAR-1 gene expression was correlated with all three markers for human monocytes and macrophages, i.e.
CD68
(
p
 < 0.01)
, CD163
(
p
 < 0.001) and
CD14
(
p
 < 0.0001) [
21
]. Correlations with specific vascular endothelial cell markers (e.g. Platelet endothelial cell adhesion molecule (
PECAM)-1
) and fibroblasts markers (e.g. Vimentin (
VIM)
and fibroblast activation protein alpha
(FAP
)) were also significant (
p
 < 0.0001), with
r
-values ranging from 0.2 to 0.7. The commonly used differentiation marker for fibroblasts
ACTA2
(gene encoding for alpha-smooth muscle actin, α-SMA [
22
]) and markers for prominent constituents of ECM deposition Collagen, type I, alpha (
COL1A1)
and Fibronectin
(FN1)
were also all correlated with PAR-1 gene expression in the NSCLC specimens (all
p
 < 0.01). Intriguingly, PAR-1 expression did not correlate to epithelial (tumor) cell markers Epithelial cell adhesion molecule (
EpCAM)
, Cadherin 1 (
CDH1)
and Mucin 1 (
MUC1)
. These observed correlations (and lack of correlation in epithelial cells) were confirmed in four additional independent microarray datasets from NSCLC (Table
2
). However, no correlation between PAR-1 and stromal markers was observed in the healthy control group included in the Hou
et al.
set (GSE19188), suggesting the correlation between PAR-1 gene expression and stroma activity specifically exists in tumor microenvironment. To confirm the identity of the stromal cell types expressing PAR-1, we performed immunohistochemistry with different cell type markers on consecutive lung cancer slides. As shown in Additional file
1
: Figure S1, PAR-1 positive areas are also positive for CD31 (endothelial marker), CD68 (macrophage marker) and aSMA (myofibroblast marker).
Table 2
Correlation of gene expression between PAR-1 and markers of different stromal cell types
×
PAR-1 is overexpressed in stroma of primary pulmonary tumors on TMAs
To confirm the presence of PAR-1 in NSCLC stroma, we next analyzed PAR-1 protein expression in tumor sections using immunohistochemistry. Ninety-four patients with pathologically confirmed diagnosis of NSCLC were included into this study. The median age at diagnosis was 66 years (range 30 to 86 years), and the majority of patients had NSCLC stage I disease (
n
 = 53, 57.6%). Six cases were well differentiated (2 ADC, 1 SCC, 3 other types), 30 cases were moderately differentiated (12 ADC, 18 SCC) and 22 cases were poorly differentiated (10 ADC, 11 SCC, 1 other types) (Table
1
). Overall, strong PAR-1 expression was seen in stroma of all different types of NSCLC (ADC, SCC and large-cell carcinoma) as opposed to weak PAR-1 staining on control sections (Fig.
2
). In line with our observations in the tumor microarray datasets, the stromal cells (fibroblast-like cells, inflammatory cells and endothelial cells) were all intensively stained for PAR-1, while cancer cells were negative for PAR-1 or showed only weak PAR-1 staining. Subsequent quantifications showed that 93 out of the 94 cases had PAR-1 expression in the stroma, with an average score of 2, while 1 SSC patient was PAR-1 negative. Importantly, the average PAR-1 score in control lungs was significantly lower as in NSCLC stroma (average score of 1; Fig.
3a
). As shown in Fig.
3b
, PAR-1 levels were similar in different subtype of NSCLC (average scores of 2.11, 2.01 and 2.08 for ADC, SCC and other type of NSCLCs respectively). Stromal PAR-1 expression levels did not correlate with clinical variables like stage of NSCLC (Fig.
3c
), differentiation status (Fig.
3d
), disease progression (Fig.
3e
) and overall survival (Fig.
3f
).
×
×
Discussion
Conclusion
In summary, our data show PAR-1 is overexpressed in the tumor stroma of NSCLC, but stromal PAR-1 expression levels do not correlate with disease progression and/or overall survival.
Acknowledgements
Not applicable.
Funding
This study was supported by grant from the Netherlands Organization for Scientific Research (016.136.167). The funders had no role in study design, data collection and analysis, decision to publish, or preparation of the manuscript.
Availability of data and materials
The microarray datasets analyzed during the current study were derived from the Gene Expression Omnibus (
http://​www.​ncbi.​nlm.​nih.​gov/​gds
) using the R2 microarray analysis and visualization platform (
http://​r2.​amc.​nl
). The five microarray datasets include Bild (
n
 = 114, GSE3141), Peitsch (
n
 = 150, GSE43580), EXPO (
n
 = 121, GSE2109), Mao (
n
 = 124, GSE 31852) and Hou (
n
 = 156, GSE 19188). The data obtained from TMAs and biopsies are available upon reasonable request from the corresponding author.
Authors' contributions
CL conceived and designed the experiments, performed the experiments, analyzed the data and wrote the manuscript; CJM performed part of the experiments and analyzed the data; JJTHR performed part of the experiments and analyzed the data; MDK analyzed the data; HMH performed part of the experiments; KB analyzed the data and wrote the manuscript; CAS conceived and designed the experiments, and was a major contributor in writing the manuscript. All authors have read and approved the final manuscript.
Competing interests
The authors declare that they have no competing interests.
Consent for publication
Not applicable.
Ethics approval and consent to participate
This research project used anonymized human tissue (both NSCLC tumorous and adjacent healthy tissue) that was removed from a patient during the normal course of treatment and which was later made available for scientific research (so-called 'further use' of human tissue). According to the Code of Conduct for dealing responsibly with human tissue in the context of health research (Human Tissue and Medical Research: Code of conduct for responsible use drawn up by the Federation of Dutch Medical Scientific Societies in collaboration with the Dutch Patient Consumer federation, the Federation of Parent and Patient Organisations and the Biobanking and Biomolecular Resources Research Infrastructure;
https://​www.​federa.​org/​sites/​default/​files/​digital_​version_​first_​part_​code_​of_​conduct_​in_​uk_​2011_​12092012.​pdf
) these biological materials are as such not subject to any requirement for ethical review or consent from patients.
Open Access
This article is distributed under the terms of the Creative Commons Attribution 4.0 International License (
http://​creativecommons.​org/​licenses/​by/​4.​0/​
), which permits unrestricted use, distribution, and reproduction in any medium, provided you give appropriate credit to the original author(s) and the source, provide a link to the Creative Commons license, and indicate if changes were made. The Creative Commons Public Domain Dedication waiver (
http://​creativecommons.​org/​publicdomain/​zero/​1.​0/​
) applies to the data made available in this article, unless otherwise stated.