14.11.2017 | Original Article | Ausgabe 2/2018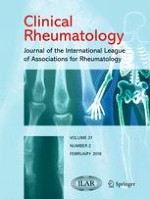 Potential risk factors for reactive arthritis and persistence of symptoms at 2 years: a case-control study with longitudinal follow-up
Zeitschrift:
Autoren:

Helga Raquel Garcia Ferrer, Alexander Azan, Isa Iraheta, Joan Von Feldt, Luis R. Espinoza, Julia Manasson, Jose U. Scher, Abraham Garcia Kutzbach, Alexis Ogdie
Wichtige Hinweise
Helga Raquel Garcia Ferrer and Alexander Azan are co-first authors.
Abstract
The objective of the study is to determine the risk factors for the development of reactive arthritis (ReA) and examine the factors associated with the persistence of symptoms. Patients with a new diagnosis of ReA and controls with a gastrointestinal (GI), urogenital, or sexually transmitted infection in the 3–6 months prior to study entry were prospectively enrolled in Guatemala City. ReA patients fulfilled the Assessment in Spondyloarthritis International Society criteria for peripheral spondyloarthropathy (SpA). Patients underwent history, examination, Achilles tendon ultrasound, and blood draw. Human leukocyte antigen (HLA) type and serum biomarkers were measured.
t
tests and nonparametric equivalents were used to examine the association of clinical, laboratory, and imaging factors with ReA. Patients were contacted 2 years later to assess for persistence of symptoms. Study subjects included patients with ReA (
N
 = 32) and controls (
N
 = 32). ReA patients were most frequently infected in April whereas controls were most frequently infected in August. Two ReA patients and two controls were HLA-B27-positive. Serum cathepsin K and C-reactive protein were higher in ReA patients compared to controls (
p
 = 0.03 for both), while total cholesterol and low-density lipoprotein were lower (
p
 = 0.008 and 0.045, respectively). Among those with ReA, 15 (47%) patients had continued symptoms at 2 years. These patients had a lower matrix metalloproteinase-3 level at diagnosis than patients for whom ReA resolved (
p
 = 0.004). HLA-B27 was not associated with development of ReA in Guatemala; however, the month of infection was associated with ReA. The most striking finding was the persistence of arthritis at 2 years in nearly half of the patients.