13.02.2019 | Original Article | Ausgabe 4/2019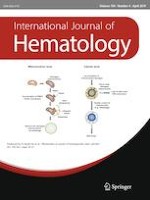 Potential role of activated factor VIII (FVIIIa) in FVIIa/tissue factor-dependent FXa generation in initiation phase of blood coagulation
Zeitschrift:
Autoren:

Shoko Furukawa, Keiji Nogami, Kenichi Ogiwara, Midori Shima
Wichtige Hinweise
Electronic supplementary material
An account of this work was presented at the 56th (San Francisco, CA, 2014) and at the 58th (San Diego, CA, 2016) annual meetings of the American Society of Hematology.
Publisher's Note
Springer Nature remains neutral with regard to jurisdictional claims in published maps and institutional affiliations.
Abstract
Factor VIIa/tissue factor (FVIIa/TF) initiates blood coagulation by promoting FXa generation (extrinsic-Xa). Subsequent generation of intrinsic FXa (intrinsic-Xa) amplifies thrombin formation. Previous studies suggested that FVIIa/TF activates FVIII rapidly in immediate coagulation reactions, and FVIIa/TF/FXa activates FVIII prior to thrombin-dependent feedback. We investigated FVIII/FVIIa/TF/FXa relationships in early coagulation mechanisms. Total FXa generated by FVIIa/TF and FVIIa/TF-activated FVIII (FVIIIaVIIa/TF) was 22.6 ± 1.7 nM (1 min); total FXa with FVIIa-inhibitor was 3.4 ± 0.7 nM, whereas FXa generated by FVIIa/TF or FVIII/TF was 10.4 ± 1.1 or 0.74 ± 0.14 nM, respectively. Little Xa was generated by FVIII alone, suggesting that intrinsic-Xa mechanisms were mediated by FVIIIaVIIa/TF and FVIII/TF in the initiation phase. Intrinsic-Xa was delayed somewhat by von Willebrand factor (VWF). FVIII activation by FXa with FVIIa/TF was comparable to activation with Glu-Gly-Arg-inactivated-FVIIa/TF. TF counteracted the inhibitory effects of VWF on FXa-induced FVIII activation mediated by Arg372 cleavage. The FVIII-C2 domain bound to cytoplasmic domain-deleted TF (TF1−243), and VWF blocked this binding by > 80%, indicating an overlap between VWF- and TF1−243-binding site(s) on C2. Overall, these data suggest that FVIII-associated intrinsic-Xa, governed by both FVIIa/TF-induced and FXa-induced FVIII activation mediated by FVIII-TF interactions, together with FVIIa-dependent extrinsic-Xa mechanisms, may be central to the initiation phase of coagulation.