01.12.2015 | Research article | Ausgabe 1/2015 Open Access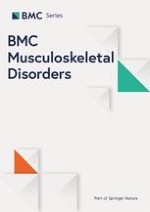 Practicability for robot-aided measurement of knee stability in-vivo
Zeitschrift:
Autoren:

Andrea Lorenz, Verena Krickl, Ingmar Ipach, Eva-Maria Arlt, Nikolaus Wülker, Ulf G. Leichtle
Wichtige Hinweise
Competing interests
There are no competing interests.
Authors' contributions
AL carried out the measurements, analyzed the data and drafted the manuscript, VK recruited the participants, assisted the measurements and revised the manuscript, II designed the study, participated in the development of the setup and revised the manuscript, EMA participated in the development of the setup and examined the participants, NW conceived and supervised the study and UL coordinated the study, participated in data analysis and substantially contributed in drafting the manuscript. All authors read and approved the final manuscript.
Abstract
Background
For the analysis of different treatments concerning anterior cruciate ligament (ACL) rupture, objective methods for the quantification of knee stability are needed. Therefore, a new method for in-vivo stability measurement using a robotic testing system should be developed and evaluated.
Methods
A new experimental setting was developed using a KUKA robot and a custom-made chair for the positioning and fixation of the participants. The tibia was connected to the robot via a Vacoped shoe and magnetic buttons, providing adequate safety. Anterior tibial translation and internal tibial rotation were measured on both legs of 40 healthy human subjects at 30°, 60° and 90° of flexion, applying anterior forces of 80 N and internal torques of 4 Nm, respectively.
Results
While the mean differences between the right and left leg measured for anterior tibial translation were within an acceptable range (<1.5 mm), the absolute values were substantially large (38–40.5 mm). For mean internal tibial rotation, between 17.5 and 20° were measured at the different sides and flexion angles, with a maximal difference of 0.75°. High reproducibility of the measurements could be demonstrated for both, anterior tibial translation (ICC(3,1) = 0.97) and internal tibial rotation (ICC(3,1) = 0.94).
Conclusions
Excellent results were achieved for internal tibial rotation, almost reproducing current in-vitro studies, but too large anterior tibial translation was measured due to soft-tissue compression. Therefore, high potential for the analysis of ACL related treatments concerning rotational stability is seen for the proposed method, but further optimization is necessary to enhance this method for the reliable measurement of anterior tibial translation.