01.12.2019 | Research | Ausgabe 1/2019 Open Access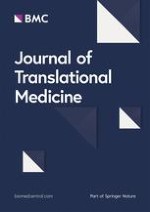 PRAME promotes epithelial-to-mesenchymal transition in triple negative breast cancer
Zeitschrift:
Autoren:

Ghaneya Al-Khadairi, Adviti Naik, Remy Thomas, Boshra Al-Sulaiti, Shaheen Rizly, Julie Decock
Abstract
Background
The triple negative breast cancer (TNBC) paradox marks a major challenge in the treatment-decision making process. TNBC patients generally respond better to neoadjuvant chemotherapy compared to other breast cancer patients; however, they have a substantial higher risk of disease recurrence. We evaluated the expression of the tumor-associated antigen PReferentially Antigen expressed in MElanoma (PRAME) as a prognostic biomarker in breast cancer and explored its role in cell migration and invasion, key hallmarks of progressive and metastatic disease.
Methods
TCGA and GTeX datasets were interrogated to assess the expression of PRAME in relation to overall and disease-free survival. The role of PRAME in cell migration and invasion was investigated using gain- and loss-of-function TNBC cell line models.
Results
We show that PRAME promotes migration and invasion of TNBC cells through changes in expression of E-cadherin, N-cadherin, vimentin and ZEB1, core markers of an epithelial-to-mesenchymal transition. Mechanistic analysis of PRAME-overexpressing cells showed an upregulation of 11 genes (
SNAI1
,
TCF4
,
TWIST1
,
FOXC2
,
IL1RN
,
MMP2
,
SOX10
,
WNT11
,
MMP3
,
PDGFRB
, and
JAG1
) and downregulation of 2 genes (
BMP7
and
TSPAN13
). Gene ontology analyses revealed enrichment of genes that are dysregulated in ovarian and esophageal cancer and are involved in transcription and apoptosis. In line with this, interrogation of TCGA and GTEx data demonstrated an increased PRAME expression in ovarian and esophageal tumor tissues in addition to breast tumors where it is associated with worse survival.
Conclusions
Our findings indicate that PRAME plays a tumor-promoting role in triple negative breast cancer by increasing cancer cell motility through EMT-gene reprogramming. Therefore, PRAME could serve as a prognostic biomarker and/or therapeutic target in TNBC.