04.06.2018 | Research Article | Ausgabe 1/2019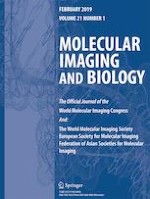 Preclinical Evaluation of a Novel TSPO PET Ligand 2-(7-Butyl-2-(4-(2-[18F]Fluoroethoxy)phenyl)-5-Methylpyrazolo[1,5-
a

]Pyrimidin-3-yl)-

N

,

N

-Diethylacetamide (18F-VUIIS1018A) to Image Glioma
Zeitschrift:
Autoren:

Dewei Tang, Jun Li, Michael L. Nickels, Gang Huang, Allison S. Cohen, H. Charles Manning
Wichtige Hinweise
Electronic supplementary material
Abstract
Purpose
There is an urgent need for the development of novel positron emission tomography (PET) tracers for glioma imaging. In this study, we developed a novel PET probe ([18F]VUIIS1018A) by targeting translocator protein (TSPO), an imaging biomarker for glioma. The purpose of this preclinical study was to evaluate this novel TSPO probe for glioma imaging.
Procedures
In this study, we synthesized [19F]VUIIS1018A and the precursor for radiosynthesis of [18F]VUIIS1018A. TSPO binding affinity was confirmed using a radioligand competitive binding assay in C6 glioma cell lysate. Further, dynamic imaging studies were performed in rats using a microPET system. These studies include displacement and blocking studies for ligand reversibility and specificity evaluation, and compartment modeling of PET data for pharmacokinetic parameter measurement using metabolite-corrected arterial input functions and PMOD.
Results
Compared to previously reported TSPO tracers including [18F]VUIIS1008 and [18F]DPA-714, the novel tracer [18F]VUIIS1018A demonstrated higher binding affinity and BPND. Pretreatment with the cold analog [19F]VUIIS1018A could partially block tumor accumulation of this novel tracer. Further, compartment modeling of this novel tracer also exhibited a greater tumor-to-background ratio, a higher tumor binding potential and a lower brain binding potential when compared with other TSPO probes, such as [18F]DPA-714 and [18F]VUIIS1008.
Conclusions
These studies illustrate that [18F]VUIIS1018A can serve as a promising TSPO PET tracer for glioma imaging and potentially imaging of other solid tumors.