01.04.2016 | PRECLINICAL STUDIES | Ausgabe 2/2016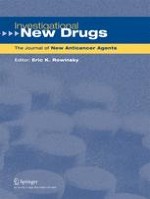 Preclinical toxicity evaluation of a novel immunotoxin, D2C7-(scdsFv)-PE38KDEL, administered via intracerebral convection-enhanced delivery in rats
Zeitschrift:
Autoren:

Xuhui Bao, Vidyalakshmi Chandramohan, Randall P. Reynolds, John N. Norton, William C. Wetsel, Ramona M. Rodriguiz, Dipendra K. Aryal, Roger E. McLendon, Edward D. Levin, Neil A. Petry, Michael R. Zalutsky, Bruce K. Burnett, Chien-Tsun Kuan, Ira H. Pastan, Darell D. Bigner
Wichtige Hinweise
Electronic supplementary material
The online version of this article (doi:
10.​1007/​s10637-015-0318-3
) contains supplementary material, which is available to authorized users.
Summary
D2C7-(scdsFv)-PE38KDEL (D2C7-IT) is a novel immunotoxin that reacts with wild-type epidermal growth factor receptor (EGFRwt) and mutant EGFRvIII proteins overexpressed in glioblastomas. This study assessed the toxicity of intracerebral administration of D2C7-IT to support an initial Food and Drug Administration Investigational New Drug application. After the optimization of the formulation and administration, two cohorts (an acute and chronic cohort necropsied on study days 5 and 34) of Sprague–Dawley (SD) rats (four groups of 5 males and 5 females) were infused with the D2C7-IT formulation at total doses of 0, 0.05, 0.1, 0.4 μg (the acute cohort) and 0, 0.05, 0.1, 0.35 μg (the chronic cohort) for approximately 72 h by intracerebral convection-enhanced delivery using osmotic pumps. Mortality was observed in the 0.40 μg (5/10 rats) and 0.35 μg (4/10 rats) high-dose groups of each cohort. Body weight loss and abnormal behavior were only revealed in the rats treated with high doses of D2C7-IT. No dose-related effects were observed in clinical laboratory tests in either cohort. A gross pathologic examination of systemic tissues from the high-dose and control groups in both cohorts exhibited no dose-related or drug-related pathologic findings. Brain histopathology revealed the frequent occurrence of dose-related encephalomalacia, edema, and demyelination in the high-dose groups of both cohorts. In this study, the maximum tolerated dose of D2C7-IT was determined to be between 0.10 and 0.35 μg, and the no-observed-adverse-effect-level was 0.05 μg in SD rats. Both parameters were utilized to design the Phase I/II D2C7-IT clinical trial.