01.12.2014 | Research | Ausgabe 1/2014 Open Access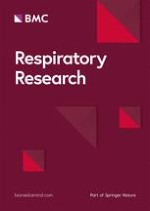 Predicting treatment failure in patients with community acquired pneumonia: a case-control study
Zeitschrift:
Autoren:

Ignacio Martin-Loeches, Xavier Valles, Rosario Menendez, Oriol Sibila, Beatriz Montull, Catia Cilloniz, Antonio Artigas, Antoni Torres
Wichtige Hinweise
Electronic supplementary material
The online version of this article (doi:
10.​1186/​1465-9921-15-75
) contains supplementary material, which is available to authorized users.
Ignacio Martin-Loeches, Xavier Valles contributed equally to this work.
Competing interests
The authors declare that they have no competing interests.
Authors' contributions
IM-L, XV and AT assisted in the design of the study, coordinated patient recruitment, analyzed and interpreted the data, and assisted in writing the paper. CE, OS, CC, RM and BM made important contributions to the acquisition and analysis of data. IML, XV, AA and AT were involved in revising the manuscript critically for important intellectual content. AT, XV and IML made substantial contributions to the concept, design, analysis and interpretation of data and revised the final manuscript version. All authors read and approved the final manuscript. AT acted as guarantor of/person responsible for the entire manuscript.
Abstract
Introduction
Treatment failure in community-acquired-pneumonia (CAP) patients is associated with a high mortality rate, and therefore are a matter of great concern in clinical management. Those patients have increased mortality and are a target population for randomized clinical trials.
Methods
A case–control study was performed in patients with CAP (non-failure cases vs. failure cases, discriminating by late and early failure). CRP, PCT, interleukin 1, 6, 8 and 10 and TNF were determined at days 1 and 3 of hospitalization.
Results
A total of 253 patients were included in this study where 83 patients presented treatment failure. Of these, 40 (48.2%) had early failure. A discriminative effect was found for a higher CURB-65 score among late failure patients (p = 0.004). A significant increase on day 1 of hospitalization in CRP (p < 0.001), PCT (p = 0.004), IL-6 (p < 0.001) and IL-8 (p = 0.02), and a decrease in IL-1 (p = 0.06) in patients with failure was observed compared with patients without failure. On day 3, only the increase in CRP (p < 0.001), PCT (p = 0.007) and IL-6 (p < 0.001) remained significant. Independent predictors for early failure were higher IL-6 levels on day 1 (OR = 1.78, IC = 1.2-2.6) and pleural effusion (OR = 2.25, IC = 1.0-5.3), and for late failure, higher PCT levels on day 3 (OR = 1.60, IC = 1.0-2.5), CURB-65 score ≥ 3 (OR = 1.43, IC = 1.0-2.0), and multilobar involvement (OR = 4.50, IC = 2.1-9.9).
Conclusions
There was a good correlation of IL-6 levels and CAP failure and IL-6 & PCT with late CAP failure. Pleural effusion and multilobar involvement were simple clinical predictors of early and late failure, respectively.