11.10.2016 | Original Contributions | Ausgabe 4/2017 Open Access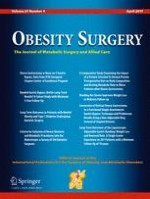 Prediction Model for Hemorrhagic Complications after Laparoscopic Sleeve Gastrectomy: Development of SLEEVE BLEED Calculator
Zeitschrift:
Autoren:

Michal R. Janik, Maciej Walędziak, Jakub Brągoszewski, Andrzej Kwiatkowski, Krzysztof Paśnik
Abstract
Introduction
Laparoscopic sleeve gastrectomy (LSG) is one of the most frequently performed bariatric procedures. Hemorrhagic complications (HC) after surgery are common and require surgical revision. Accurate estimation of the risk of postoperative HC can improve surgical decision-making process and minimize the risk of reoperation. The aim of the present study was to develop a predictive model for HC after LSG.
Material and Methods
The retrospective analysis of 522 patients after primary LSG was performed. Patients underwent surgery from January 2013 to February 2015. The primary outcome was defined as a surgical revision due to hemorrhagic complications. Multiple regression analysis was performed.
Results
The rate of hemorrhagic complications was 4 %. The mean age of patients was 41.0 (±11.6) years and mean BMI was 47.3 (±7.3) kg/m2. Of the 12 examined variables, four were associated with risk of HC. Protective factors for HC were no history of obstructive sleep apnea (odds ratio [OR] 0.22; 95 % CI 0.05–0.94) and no history of hypertension (OR 0.38; 95 % CI 0.14–1.05). The low level of expertise in bariatric surgery (OR 2.85; 95 % CI 1.08–7.53) and no staple line reinforcement (OR 3.34; 95 % CI 1.21–9.21) were associated with higher risk of HC.
Conclusions
The result revealed the association between hemorrhagic complications and the following factors: obstructive sleep apnea, hypertension, level of expertise in bariatric surgery, and reinforcement of the staple line. The risk assessment model for hemorrhagic complications after LSG can contribute to surgical decision-making process.