01.03.2012 | General Gynecology | Ausgabe 3/2012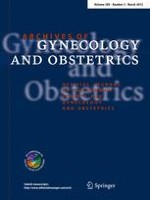 Prediction of benignity of solid adnexal masses
Zeitschrift:
Autoren:

Shengfu Wang, Samuel Johnson
Abstract
Objective
The aim of this study was to identify the sonographic features of solid ovarian masses and to determine whether they may be managed conservatively.
Study design
Sixty-three patients from September 1999 to September 2008 with solid adnexal masses demonstrating acoustic attenuation, absent Doppler vascularity and minimal or no cystic component were retrospectively reviewed. 20 patients without pathologic results or follow-up studies were excluded. The remaining 43 patients had follow-up imaging studies and/or surgical treatment. The median age of the study group was 52 years (range 16–80 years).
Results
Twenty-nine patients with solid adnexal masses were managed non-surgically. Their age range was 26–80 years (median 56). The size of the masses ranged from 0.7 to 8.3 cm (median 2.2). The follow-up time ranged from 3 to 76 months (median 30). 19 masses (65.5%) showed no change on the follow-up exam. Two masses showed an increase in size (6.9%), and eight masses (27.6%) showed a decrease in size or complete resolution. All these masses had well-circumscribed margins, were homogeneous, with increased attenuation, and had minimal or no vascular flow or cystic component. Normal ovarian tissue was detected in the margins of 24 of the masses (85.7%). These patients exhibited no subsequent evidence of malignancy, such as development of metastases, local invasion, or ascites. 14 patients with solid adnexal masses underwent surgical treatment. Their age range was 16–72 years (median 40). The size of the excised masses ranged from 1.8 to 12.3 cm (median 3.2 cm). Normal ovarian tissue was sonographically demonstrated in ten of these masses (71.4%). All 14 patients (100%) had benign results at pathology. Four patients showed no ovarian neoplasm. Ten patients had benign ovarian neoplasms, including four fibromas, three fibrothecomas, one Brenner tumor, one granulosa cell tumor, and one mature teratoma.
Conclusion
We present a retrospective study of both surgical and nonsurgical management of solid ovarian masses. None of the sonographically diagnosed benign-appearing solid adnexal masses were subsequently proved to be malignant either at pathology or by clinical course, suggesting that ultrasound can accurately predict benignity in these masses and that conservative management is an option in these patients.