01.03.2012 | Original Article | Ausgabe 1/2012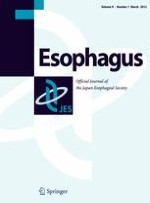 Predictive factors for early recurrence in patients with esophageal squamous cell carcinoma after curative esophagectomy
Zeitschrift:
Autoren:

Hiroki Shimizu, Atsushi Shiozaki, Hitoshi Fujiwara, Shuhei Komatsu, Daisuke Ichikawa, Kazuma Okamoto, Yasutoshi Murayama, Yoshiaki Kuriu, Hisashi Ikoma, Masayoshi Nakanishi, Toshiya Ochiai, Yukihito Kokuba, Eigo Otsuji
Abstract
Background
Even after curative resection with combined modality treatment by chemotherapy and radiation, esophageal cancer has remained a disease with poor prognosis upon early recurrence. In this study, the clinicopathological predictive factors for early recurrence in patients with curative resected esophageal cancer were retrospectively evaluated.
Methods
Eighty-one consecutive patients who had recurrence of primary esophageal squamous cell carcinoma after curative resection were analyzed. The patients were classified into two subgroups by time of recurrence (within 180 days of surgery or later): an early group and a late group.
Results
Twenty-seven (33.3%) and 54 (66.7%) patients were classified into the early and late groups, respectively. Patients in the early group had significantly deeper tumors than those in the late group. The initial recurrence patterns were not significantly different between the two groups, and distant recurrences were found in two-thirds of patients in both groups. The 1-year survival rates of patients in the early and late groups were 11 and 62%, respectively. The survival rate after recurrence of patients in the early group was significantly poorer than that of patients in the late group (
p
< 0.0001). Multivariate logistic regression analysis revealed that the presence of three or more pathological lymph node metastases was an independent risk factor associated with early recurrence.
Conclusions
Early distant recurrences of esophageal cancer frequently occurred even after curative surgery. The number of pathological lymph node metastases (three or more) was the independent risk factor for early recurrence in patients with esophageal cancer after curative resection.