01.12.2014 | Original Article—Liver, Pancreas, and Biliary Tract | Ausgabe 12/2014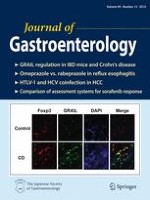 Predictive value of the IFNL4 polymorphism on outcome of telaprevir, peginterferon, and ribavirin therapy for older patients with genotype 1b chronic hepatitis C
Zeitschrift:
Autoren:

Hatsue Fujino, Michio Imamura, Yuko Nagaoki, Yoshiiku Kawakami, Hiromi Abe, C. Nelson Hayes, Hiromi Kan, Takayuki Fukuhara, Tomoki Kobayashi, Keiichi Masaki, Atsushi Ono, Takashi Nakahara, Youji Honda, Noriaki Naeshiro, Ayako Urabe, Satoe Yokoyama, Daisuke Miyaki, Eisuke Murakami, Tomokazu Kawaoka, Nobuhiko Hiraga, Masataka Tsuge, Akira Hiramatsu, Hideyuki Hyogo, Hiroshi Aikata, Shoichi Takahashi, Daiki Miki, Hidenori Ochi, Waka Ohishi, Kazuaki Chayama, Hiroshima Liver Study Group
Abstract
Background
Older patients with chronic hepatitis C have a lower virological response to interferon (IFN) treatment compared to younger patients. The efficacy of telaprevir (TVR) and PEG-IFN plus ribavirin combination therapy and the predictive value of recently identified IFN lambda (IFNL) 4 polymorphisms on the outcome of therapy for older patients have not been addressed.
Methods
We assessed predictive factors for sustained virological response (SVR) to triple therapy in 226 younger (≤65 years) and 87 older (>65 years) Japanese patients with chronic genotype 1 hepatitis C. IFNL4 polymorphism ss469415590 was analyzed by Invader assay.
Results
The SVR rate for older patients was slightly lower than for younger patients (69 vs. 82 %,
P
= 0.043). In the older group, the SVR rate for patients with the IFNL4 TT/TT genotype was significantly higher than patients with TT/ΔG or ΔG/ΔG genotypes (81.8 and 42.9 %,
P
= 0.003). In multivariate regression analysis, rapid virological response (OR 36.601,
P
= 0.002) and IFNL4 TT/TT genotype (OR 19.502,
P
= 0.009) were identified as significant independent predictors for SVR in older patients. Treatment-related decreases in hemoglobin and increases in serum creatinine were higher in older patients than younger patients. Reduction of initial TVR dose to 1,500 mg per day alleviated these adverse events without compromising SVR rate in older patients.
Conclusions
Analysis of IFNL4 polymorphisms is a valuable predictor in older patients receiving TVR triple therapy. 1,500 mg per day is a suitable initial TVR dose for older Japanese patients.