21.04.2018 | Original Article | Ausgabe 8/2018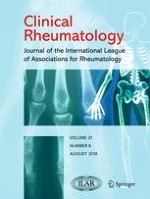 Predictors of activity limitation in people with gout: a prospective study
Zeitschrift:
Autoren:

Sarah Stewart, Keith Rome, Alastair Eason, Meaghan E. House, Anne Horne, Anthony J. Doyle, Julie Knight, William J. Taylor, Nicola Dalbeth
Wichtige Hinweise
Electronic supplementary material
Abstract
The objective of the study was to determine clinical factors associated with activity limitation and predictors of a change in activity limitation after 1 year in people with gout. Two hundred ninety-five participants with gout (disease duration < 10 years) attended a baseline assessment which included medical and disease-specific history, pain visual analog score and plain radiographs scored for erosion and narrowing. Activity limitation was assessed using the Health Assessment Questionnaire-II (HAQ-II). After 1 year, participants were invited to complete a further HAQ-II; follow-up questionnaires were available for 182 participants. Fully saturated and stepwise regression analyses were used to determine associations between baseline characteristics and HAQ-II at baseline and 1 year, and to determine predictors of worsening HAQ-II in those with normal baseline scores. Median (range) baseline HAQ-II was 0.20 (0–2.50) and 0.20 (0–2.80) after 1 year of follow-up. Pain score was the strongest independent predictor of baseline HAQ-II, followed by radiographic narrowing score, type 2 diabetes, swollen joint count, BMI, age and urate (model
R
2
 = 0.51,
P
 < 0.001). Baseline HAQ-II was the strongest predictor of change in HAQ-II at 1 year, followed by tender joint count (model
R
2
 = 0.19,
P
 < 0.001). Of those with HAQ-II scores of 0 at baseline (
n
 = 59, 32% of those with follow-up data), most did not progress (
n
 = 52, 88%); however, baseline pain score, type 2 diabetes and flare frequency were significant predictors of worsening HAQ-II in this group (
R
2
 = 0.34,
P
 < 0.001). People with gout experience a wide range of activity limitation, and levels of activity limitation are, on average, stable over a 1-year period. Baseline pain scores are strongly associated with activity limitation and predict development of activity limitation in those with normal HAQ-II scores at baseline.