07.02.2018 | Original Contributions | Ausgabe 7/2018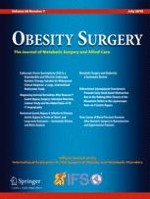 Predictors of Binge Eating among Bariatric Surgery Candidates: Disinhibition as a Mediator of the Relationship Between Depressive Symptoms and Binge Eating
Zeitschrift:
Autoren:

Stephanie Cox, Cassie Brode
Abstract
Background
Current and lifetime psychopathology is common in adult patients seeking bariatric surgery, with major depressive disorder and binge eating disorder affecting a higher proportion of this group than the general population. While depressive symptoms have been previously associated with eating pathology, potential mediators of this relationship are not well understood.
Methods
This study used a naturalistic, retrospective design to investigate cognitive and behavioral aspects of eating behavior (cognitive restraint, disinhibition, and hunger) as potential mediators of the relationship between depressive symptoms and binge eating within a sample of 119 adult patients (82.4% female; 96.6% white; mean age = 47 years) seeking bariatric surgery (Roux-en-Y and sleeve gastrectomy) at a large university medical center. Patients completed a standardized presurgical psychological evaluation to determine appropriateness for bariatric surgery as part of routine clinical practice. Binge eating was assessed via clinician rating (number of binge eating episodes per week) based on DSM-IV diagnostic criteria and self-report measures (Binge Eating Scale) in order to account for potential methodological differences. Depressive symptoms were assessed using the Beck Depression Inventory.
Results
Depressive symptoms were a significant predictor of binge eating, disinhibition, and hunger. However, only disinhibition emerged as a significant mediator of the relationship between depressive symptoms and binge eating.
Conclusions
Behavioral disinhibition, or a tendency toward overconsumption of food and challenges restraining impulses associated with a loss of control eating, may represent an important variable in determining the relation between depressive symptoms and binge eating, in bariatric surgery patients.