01.12.2017 | Research article | Ausgabe 1/2017 Open Access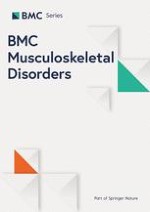 Predictors of haematocrit in lumbar fusion for lumbar disc herniation: a surgical assessment
Zeitschrift:
Autoren:

Qingchun Cai, Sixiang Zeng, Liqiang Zhi, Junlong Wu, Wei Ma
Abstract
Background
Low haematocrit (Hct) is associated with a higher rate of post-operative complications, increased mortality, and additional medical costs following cardiac surgery. Predictors of post-operative Hct in lumbar fusion are unclear and may be beneficial in avoiding adverse surgical outcomes.
Methods
A total of 704 lumbar disc herniation patients (385 males, 319 females) who underwent primary lumbar fusion surgery were reviewed in this retrospective study.
Results
In the 687 patients who met the selection criteria, the pre-operative Hct was 41.23 ± 4.57%, the post-operative Hct was 32.61 ± 4.52%, the peri-operative Hct decline was 8.62 ± 4.07%, the estimated intra-operative blood loss was 586.76 ± 346.62 mL, and the post-operative drainage was 489.33 ± 274.32 mL. Pre-operative Hct, estimated blood volume, estimated intra-operative blood loss, post-operative drainage, allogeneic blood transfusion, and age showed significant correlations with post-operative Hct, and all factors were involved in the final multiple regression model. Patients who received intensive care had lower post-operative Hct values, and the length of post-operative hospital stay was negatively correlated with post-operative Hct.
Conclusions
Dangerously low post-operative Hct is related to the length of ICU stay and post-operative hospital stay. Age, pre-operative Hct, intra-operative blood loss, post-operative drainage, and units of allogeneic blood transfusion are significant predictors of post-operative Hct and Hct decline. Hct variations during the operation make the calculation of total blood loss difficult.