18.08.2017 | Original Article | Ausgabe 4/2017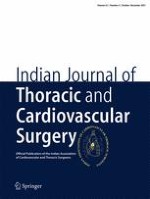 Predictors of intra-aortic balloon pump insertion in different spectrum of patients undergoing elective coronary artery bypass grafting
Autoren:

Manoj Kumar Sahu, Anupam Das, Milind Padmakar Hote, Palleti Rajashekar, Vishnubhatla Sreenivas, Balram Airan
Abstract
Background
This prospective observational study aimed to identify the predictors of intra-aortic balloon pump (IABP) insertion in patients undergoing elective coronary artery bypass grafting (CABG) and to formulate a scoring system to categorize the patients to low-, moderate-, and high-risk groups.
Patients and methods
Of the consecutive patients, 105 were enrolled for elective CABG. Pre-operative evaluation consisted of history, examination, electrocardiogram, echocardiogram, and coronary angiogram. IABP was inserted either intra- or post-operatively depending on indications laid down in the study. Various pre-, intra-, and post-operative data were analyzed and the patients were followed up till their discharge from the hospital.
Results
The mean age of the study population was 59.1 ± 8.9 years. The risk factors for IABP requirement were NYHA class III/IV angina (
p
= 0.019, CI 1.18–11.89), family history of hypertension (
p
= 0.025, CI 1.09–18.12), pre-operative serum creatine kinase myocardial isozyme ≥30 U/L (
p
= 0.008, CI 1.37–10.43), cardiomegaly (
p
= 0.002) and pleural effusion (0.014), abnormal rhythm and ST-T changes (
p
= 0.011), left ventricular ejection fraction <50% (
p
= 0.001, CI 2.50–17.60), non-usage of arterial grafts (
p
= 0.002, CI 1.70–13.91), transfusion requirement ≥1500 mL (
p
= 0.003, CI 1.51–9.80), and intra-operative defibrillation (
p
= 0.014). Six deaths were reported in the study (5.7%), and the mortality was significantly higher in the IABP group (
n
= 5, 19.2%) as compared to the non-IABP group (
n
= 1, 1.26%). A scoring system was formulated based on four risk factors identified by the multivariate logistic regression analysis.
Conclusions
We conclude that patients with higher risk scores (derived from risk factors identified in the study) are more likely to require IABP which may be instituted at an early phase to avoid late cardiac decompensation.