01.06.2014 | Original Article | Ausgabe 3/2014 Open Access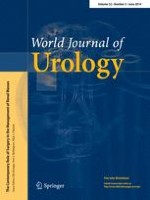 Predictors of septic shock in obstructive acute pyelonephritis
Zeitschrift:
Autoren:

Mitsuhiro Tambo, Takatsugu Okegawa, Toshihide Shishido, Eiji Higashihara, Kikuo Nutahara
Introduction
Complicated urinary tract infection (UTI) is an infection associated with organic or functional urinary tract abnormalities or an indwelling urinary catheter/device; it often fails to respond to conventional antimicrobial treatment. Complicated UTI with obstructive uropathy secondary to urinary calculi is not uncommon. Acute pyelonephritis (APN) with obstructive uropathy can progress to urosepsis and cause severe conditions such as septic shock and disseminated intravascular coagulopathy (DIC). It is accepted that the management of APN with obstructive uropathy is prompt decompression of the renal collecting system. The optional method of decompression is percutaneous nephrostomy or retrograde ureteral stenting. However, despite the emergent decompression for APN with obstructive uropathy, some cases can progress to septic shock and DIC. We assessed the risk factors for progression to septic shock in patients with obstructive APN associated with upper urinary calculi.
Patients and methods
We conducted a retrospective medical chart review of all admissions to the Department of Urology, Kyorin University, Tokyo, Japan, that were due to APN with upper urinary tract calculi between January 1, 2006, and December 31, 2011. APN was defined as the presence of more than 5 white blood cells (WBCs)/high-power field (hpf) in a centrifuged urinary specimen, an isolated bacterial count of more than 10
4
colony-forming units (CFU)/mL in the urine specimen, high-grade fever of more than 38 °C, and related characteristic symptoms. APN associated with surgical intervention was excluded in order to minimize potential bias for evaluating the risk factors in APN with upper urinary calculi. Antimicrobial treatment for initial empirical treatment was performed according to the antimicrobial treatment guidelines published by the Japanese Association for Infectious Disease and the Japanese Society of Chemotherapy that a cephalosporin, penicillin with a beta-lactamase inhibitor, an aminoglycoside, and a carbapenem, followed by oral antimicrobial treatment, are recommended [
1
]. The midstream and blood culture were performed in all patients, and antimicrobial susceptibility test also was examined. When susceptibility test of initial empirical treatment was resistant, antimicrobial treatment was exchanged to susceptible antibiotic. The duration of symptoms was defined as the time from the day of presentation to the day of intravenous antibiotic treatment initiation. Emergency drainage for the decompression of the renal collecting system was performed for empirical treatment in the case of initial failure and for severe cases (e.g., poor performance status, a markedly elevated leukocyte count, and C-reactive protein (CRP) level). We performed retrograde ureteral stenting for drainage as an initial trial and performed percutaneous nephrostomy in cases of initial failure or cases judged to present difficulty in inserting the ureteral stent (e.g., history of urinary tract abnormalities and severe hydronephrosis). The retrograde ureteral stenting was performed by fluoroscopic guidance using a rigid cystoscope with prior spinal anesthesia or transurethral administration of local anesthetic (if female). The 6Fr polyurethane JJ ureteral stents were used. The percutaneous nephrostomy was performed after sonographically guided renal puncture under local anesthesia. A guidewire insertion, fascial dilation, and 7Fr pigtail catheter placement were achieved by fluoroscopy.
Sepsis was defined as systemic inflammatory response syndrome (SIRS) (two or more of the following: body temperature >38.0 °C or <36.0 °C, heart rate >90 beats per minute, respiratory rate >20 breaths per minute or arterial CO
2
tension <32 mmHg, white blood cell count >12,000/mm
3
or <4,000/mm
3
or immature neutrophils >10 %) and documented infection including culture or normally sterile body fluid positive for pathogenic microorganisms, or focus of infection identified by visual inspection. Severe sepsis was defined as sepsis and at least one sign of organ hypoperfusion or organ dysfunction, such as urinary output <0.5 mL/kg for at least 1 h, abrupt change in mental status, areas of mottled skin, platelet count <100,000 or DIC. Septic shock was defined as severe sepsis and one of the following: systemic mean blood pressure <60 mmHg (<80 mmHg if previous hypertension) after 40–60 mL/kg serum saline, or a need for dopamine >5 μg/kg per minute or norepinephrine (epinephrine) <0.25 μg/kg per minute to maintain mean blood pressure >60 mmHg (>80 mmHg if previous hypertension) [
2
]. Performance status was classified according to the World Health Organization performance status classification. The disease states including cardiovascular or neurologic diseases were described using the International Classification of Disease (ICD-10) definitions. Immunocompromised status included individuals who had a history of autoimmune diseases, liver cirrhosis or used immunocompromising drugs such as steroids. Either functional or structural abnormalities including hydronephrosis due to factors other than upper urinary tract calculi, urinary diversion such as ileal conduit, or the presence of an indwelling urinary catheter were categorized as urinary tract abnormalities. Estimated glomerular filtration rate (eGFR) (mL/min/1.73 m
2
) was calculated according to the following formula determined by the Japanese Society of Nephrology: 194 × serum creatinine (mg/dL)
−1.094
× Age
−0.287
× 0.739 (if female) [
3
]. Degree of hydronephrosis was graded based on the Society for Fatal Urology (grade 0: no calyx or pelvic dilation, grade 1: pelvic dilation only, grade 2: mild calyx dilation, grade 3: severe calyx dilation, and grade 4: calyx dilation accompanied by renal parenchymal atrophy) [
4
]. The low-grade hydronephrosis group included patients with grade 1 or 2 hydronephrosis, and the high-grade group included patients with grade 3 or 4 hydronephrosis.
Statistical analysis
The variables in the different groups were compared using the Mann–Whitney
U
test. The independence of fitness of the categorical data was estimated by the chi-square test or Fisher's exact test. Independent predictors of septic shock were determined using multivariate logistic regression analysis. Tests with a probability of less than 0.05 were considered as statistically significant. Statistical analyses were conducted using SPSS software (version 18.0).
Results
Discussion
Conclusions
In patients with obstructive APN, decreases in platelet count and serum albumin level might be predictors of the development of septic shock. Patients with obstructive APN associated with upper urinary tract calculi who have these risk factors should be treated with caution.
Acknowledgments
This study was supported in part by a Grant-in-Aid for Progressive Renal Disease Research, from the Ministry of Health, Labour and Welfare of Japan (H23-Nanchi-Ippan-033).
Conflict of interest
The authors declare that they have no competing interests.
Open Access
This article is distributed under the terms of the Creative Commons Attribution License which permits any use, distribution, and reproduction in any medium, provided the original author(s) and the source are credited.