24.01.2018 | Original Article | Ausgabe 8/2018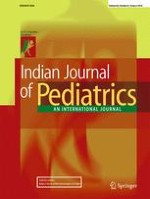 Predictors of Severity in Pediatric Scrub Typhus
Zeitschrift:
Autoren:

Dinesh Kumar Narayanasamy, Thirunavukkarasu Arun Babu, Vijayasankar Vijayadevagaran, Devi Kittu, Shanthi Ananthakrishnan
Abstract
Objective
To identify the factors that can predict the severity of scrub typhus in children.
Methods
This prospective study was conducted at a tertiary care teaching hospital between November 2014 to October 2016. All children <12y of age admitted with fever for more than 7d and positive IgM ELISA for scrub typhus were included in the study. These children were followed during the hospital course and their laboratory results, response to treatment and complications were documented. Cases of 'severe scrub typhus' were identified based on criteria from published adult and pediatric studies.
Results
Out of 930 children with fever for more than 7d, IgM ELISA for scrub typhus was positive in 230 children. Ninety one (40.6%) cases fulfilled the criteria of 'severe scrub typhus' in children. Out of 45 factors, 27 potential factors were studied. The multivariate analysis identified 5 factors, breathlessness (OR: 6.85, 95%CI: 2.69 to 9.87), altered sensorium (OR: 11.48, 95% CI 3.43 to 10.19), leucocytosis (OR: 3.38, 95% CI 1.12 to 10.16), hypoalbuminemia (OR: 10.78, 95% CI 2.66 to 48.76), and hyponatremia (OR: 10.08, 95% CI 2.11 to 23.42) to be significantly associated with the 'severe scrub typhus' cases.
Conclusions
Breathlessness, altered sensorium, leucocytosis, hypoalbuminemia, and hyponatremia predict severity in childhood scrub typhus. Presence of these factors should alert the treating physician regarding the need for intensive monitoring, treatment or referral.