02.07.2018 | Original Article | Ausgabe 3/2019 Open Access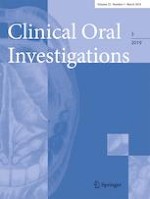 Prefrontal modulation during chewing performance in occlusal dysesthesia patients: a functional near-infrared spectroscopy study
Zeitschrift:
Autoren:

Noriyuki Narita, Kazunobu Kamiya, Yasuhide Makiyama, Sunao Iwaki, Osamu Komiyama, Tomohiro Ishii, Hiroyuki Wake
Introduction
Materials and methods
Participants
This study was conducted from February 2011 to August 2013 at the Department of Temporomandibular Joint Pain and Dysfunction of Nihon University School of Dentistry at Matsudo Hospital, Japan. Based on proposals by Melis and Zawawi [
1
], the study population included OD patients who persistently complained of uncomfortable bite sensation for at least 6 months in the absence of dental occlusal discrepancies, such as centric prematurity or nonworking interference, or when the complaints were disproportionate to those conditions [
14
]. Fifteen OD patients, 8 males and 7 females, with a mean age of 49.9 ± 16.1 years were investigated, and the results were compared to those obtained from 15 age- and gender-matched (Fisher's exact test and
Z
test) HC subjects (8 males, 7 females; age 39.3 ± 15.3 years). Clinical examinations were conducted by 2 dentists, 1 of whom was a prosthodontics specialist. The 15 OD patients in this study had complained of uncomfortable bite sensation for more than 1 year. Additionally, the OD patients had no symptoms such as periodontal disease, pulpitis, temporomandibular disorders based on RDC/TMD [
36
], or myofascial pain disorders. The HC subject group was recruited from staff working at Nihon University School of Dentistry at Matsudo and had no dental occlusal discrepancies, no complaints or awareness of occlusal dysesthesia, and no symptoms such as periodontal disease, pulpitis, temporomandibular disorders based on RDC/TMD [
36
], or myofascial pain disorders. The sample size, determined using the G*Power 3 software package (noncommercial program downloaded from University of Dusseldorf, Germany) [
37
], was estimated to be 10.67, which, for the parameters established in this study, provided a significance level of 0.05 and statistical power of 0.8. Of the 15 OD patients, 9 had a history of psychiatric examinations for psychiatric disorders, and had been prescribed anti-depressant and/or anxiolytic medications.
Experimental procedures
Initially, all subjects were examined for psychological state using the Symptom Checklist-90-R (SCL-90-R) [
38
,
39
]. Additionally, prefrontal cortical activities were simultaneously recorded during chewing in order to further evaluate whether prefrontal activities during chewing were associated with somatization subscale scores obtained with the SCL-90-R [
38
,
39
]. We also determined occlusal status in terms of occlusal force and occlusal contact area using the Dental Prescale occlusal diagnostic system (Fujifilm Corp., Kuala Lumpur, Malaysia), because chewing-related prefrontal activity and occlusal discomfort during chewing are modulated not only by psychiatric state, but also by alterations of the oral environment, such as tooth loss [
40
], occlusal interference, and malocclusion [
41
]. The fNIRS measurements did not interfere with the EMG electrodes or jaw movement tracking while evaluating chewing performance in this study (Fig.
1
).
×
Psychological assessment
All patients filled out a modified SCL-90-R [
38
,
39
], which is a brief and multidimensional self-reported inventory designed to help clinicians screen for a broad range of psychological problems and symptoms related to psychopathologies. SCL-90-R findings provide both a depression scale and a scale measuring the severity of nonspecific physical symptoms (somatization subscale), which can be used as part of Axis II assessment [
38
,
39
].
Task
A typical chewing session consisted of 5 trials with chewing gum (Freezone, Lotte Co., Tokyo, Japan) and bilateral chewing was performed in each session. A chewing trial lasted for 10-s, with 40-s inter-trial phases. For the chewing task, we used a single piece of chewing gum, and the start and end of each trial was indicated to the participant by verbal commands. The subjects were instructed to be quiet until given a verbal cue during the pre-chewing period. After the verbal cue to start, they were instructed to chew the gum for 10 s as the chewing period until the next verbal cue instructing them to stop chewing. fNIRS measurements were performed in all subjects during the rest session, during which there was no task performance. To avoid the influence of the session sequence on the results, the subjects were asked to perform the chewing and rest sessions in a randomized order.
Measurements of masticatory muscle and jaw movement activities during chewing
Masticatory muscle activities were recorded using surface EMG electrodes. A pair of bipolar Ag/AgCl electrodes of 7-mm diameter were attached to skin overlying the corresponding muscle. The electrodes were positioned bilaterally on the center of the masseter (Mm), anterior temporal (Ta), and anterior digastric (AD) muscles parallel to the direction of the muscle fibers, with an inter-electrode distance of 20 mm. A ground electrode was attached to the left ear lobe. EMG signals were amplified (AMPL 1253A, San-ei MED, Tokyo, Japan), with the high frequency cutoff filter set at 1 kHz and a time constant of 0.03 s and EMG data were analyzed for cycle duration of AD muscle, burst duration, inter-burst duration, integrated area (Area), mean amplitude, and peak amplitude of the Mm, Ta, and AD muscles during each chewing cycle. Jaw movement activities were recorded using a MKG computer system (K7-I, Myo-Tronics, Seattle, Wash, USA). The position of the magnet attached to the buccal surface of the lower central incisor is set at zero in the intercuspal position. Jaw movements were analyzed in vertical movement (mm), anteroposterior movement (mm), lateral movement (mm), jaw-opening velocity (mm/s), and jaw-closing velocity (mm/s).
Measurements of occlusal condition
Bilateral maximal occlusal force and contact area were measured using 97-μm-thick pressure-sensitive sheets (Dental Prescale 50H R-type, Fuji Film Co., Tokyo, Japan) during maximal clenching performance in the intercuspal position, and occlusal data was calculated by a precalibrated scanning device (Occluzer FPD703, Fuji Film Co., Tokyo, Japan) in terms of occlusal force (N), asymmetrical index (AI) for occlusal force (%), moment (N cm), average pressure (MPa), and maximum pressure (MPa), as well as occlusal contact area (mm2) and AI for occlusal contact area (%).
fNIRS measurements of prefrontal activity during chewing
Coordinates for all probe and anatomical landmark (Nz, Iz, A1, A2, and Cz) positions were obtained using a 3-dimensional digitizer (3SPACE ISOTRAK2, Polhemus, VT, USA) and transcribed into Montreal Neurological Institute standard brain space [
42
] using probabilistic registration [
43
]. Probe positions were then projected onto the cortical surface and the anatomic localization corresponding to each probe coordinate was identified using Platform for Optical Topography Analysis Tools (POTATo, Hitachi, Tokyo, Japan), with reference to the Brodmann area [
44
]. Prefrontal activity was assessed using a 22-channel fNIRS device (ETG-100, Hitachi Medical Co., Chiba, Japan), which utilizes near-infrared light at two wavelengths: 780 and 830 nm [
45
]. The distance between each pair of detector probes was 3.0 cm and the device was set to measure at points associated with the surface of the cerebral cortex [
46
]. The probes were fitted with 3 × 5 thermoplastic shells and placed in the prefrontal region, whereas the bottom lines of the fNIRS probes were set according to FP1 and FP2, with referral to the international 10–20 system [
47
]. Change in [oxy-Hb] was used as an indicator of change in regional cerebral blood volume, as that has been reported to be more sensitive than [deoxy-Hb] as a parameter for measuring blood flow change associated with brain activation [
48
] and has a strong correlation with blood-oxygenation-level-dependent signals measured by fMRI [
49
]. The sampling interval was 0.1 s. During the measurements, the subjects were instructed to open their eyes and gaze at a point in front of them. Each trial was repeated five times and obtained values were averaged using the "integral mode" of the ETG-100 software for the chewing sessions. Channels 14 and 18 showed a decrease in [oxy-Hb] preceding performance of the chewing task, indicating appearance of [oxy-Hb] artifacts probably caused by preliminary strain related to temporal muscle and/or jaw movement activities. Those channels were excluded from the fNIRS measurements. Anatomical location of the fNIRS channels has been shown in Fig.
2
. These channels were localized in the dorsolateral prefrontal cortex (DLPFC), frontopolar area (FPA), pars triangularis Broca's area (BA), orbitofrontal cortex (OFC), and inferior prefrontal gyrus (IPG). Each circle corresponded to a channel and the pie chart within each circle in Fig.
2
shows the percentage of areas in that channel (Fig.
2
).
×
Statistical analysis
For statistical analyses of masticatory muscle and jaw movement activities, and occlusal status between the OD patients and HC subjects, we used
t
test or Mann–Whitney rank sum test. The value for [oxy-Hb] was calculated at 1-s intervals and compared between the rest and chewing sessions, and between the OD patients and HC subjects using paired
t
test or
t
test implemented with a plug-in-based analysis platform that runs on MATLAB (The MathWorks Inc. MA, USA). A topographical representation of significant (
p
 < 0.05) channels every 1 s was projected onto the occipital cortical surface of a Montreal Neurological Institute standard brain space [
50
] using a 3-dimensional composite display unit (version 2.41, Hitachi Medical Co. Chiba Japan) [
51
]. Two-way ANOVA was applied, and a Bonferroni
t
test was used for multiple comparisons between the OD patients and HC subjects, and between OD patients with and without a history of psychiatric examinations for the time course of averaged data for accumulated [oxy-Hb] in the pre-chewing, chewing, and post-chewing periods. Furthermore, Spearman's rank order correlation coefficient was used to estimate relationships among [oxy-Hb] data accumulated from 20 channels in the chewing period, and depression scale, somatization scale, and somatization without pain scale. In addition, statistical examinations, for masticatory muscle EMG and jaw movement activities, and occlusal condition, were also conducted with
t
test or Mann–Whitney rank sum test between the nine OD patients with a history of psychiatric conditions and the six OD patients without such a history. Fisher's exact test was used to evaluate the gender difference between OD patients and HC subjects, and
Z
test was also used for evaluating the gender difference between OD patients with and without a history of psychiatric examinations. The statistical software package SigmaPlot 12.5 (Systat Software Inc., CA, USA) was used for all analyses and
p
values of < 0.05 were considered to indicate significance.
Results
Discussion
Here, for the first time, we report that OD patients had a significant association of prefrontal deactivation during chewing with the severity of somatization, as per the SCL-90-R scoring. On the other hand, OD patients did not demonstrate any significant modifications of occlusal state or chewing activities as compared to HC subjects.
OD symptom is a comorbidity in patients with psychiatric disorders, and our examination of OD patients showed a significant relationship between prefrontal deactivation during chewing and somatization severity but not with the occlusal state and chewing activities. Moreover, no significant differences in the psychiatric states, masticatory muscles, jaw movement, and prefrontal cortical activities during chewing, and occlusal condition were observed in OD patients with or without a history of psychiatric examination. Hence, we concluded that periodontal sensation in patients with persistent OD might not be normally generated in regard to higher-order somatosensory cognitive and metacognitive functioning, which might be associated with the psychiatric states in OD patients.
Acknowledgments
We would like to appreciate Shingo Kawasaki for excellent technical assistance.
Compliance with ethical standards
Conflict of interest
The authors declare that they have no conflict of interest.
Ethical approval
All procedures performed in studies involved were in accordance with the ethical standards of the institutional and/or national research committee and with the 1964 Helsinki Declaration and its later amendments or comparable ethical standards. The study was approved by the Ethics Committee of Nihon University School of Dentistry at Matsudo (No. EC 14-13-010-1).
Informed consent
Informed consent was obtained from all individual participants included in the study.
Open Access
This article is distributed under the terms of the Creative Commons Attribution 4.0 International License (http://creativecommons.org/licenses/by/4.0/), which permits unrestricted use, distribution, and reproduction in any medium, provided you give appropriate credit to the original author(s) and the source, provide a link to the Creative Commons license, and indicate if changes were made.