01.12.2019 | Research | Ausgabe 1/2019 Open Access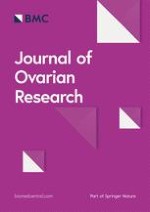 Pregnancy and oncologic outcomes of early stage low grade epithelial ovarian cancer after fertility sparing surgery: a retrospective study in one tertiary hospital of China
Zeitschrift:
Autoren:

Jie Yin, Yongxue Wang, Ying Shan, Yan Li, Ying Jin, Lingya Pan
Abstract
Objective
To detected both pregnancy and oncologic outcomes early stage low grade epithelial ovarian cancer (EOC) in one tertiary hospital of China.
Methods
Medical records of 40 EOC patients between January 2000 and December 2016 in Peking Union Medical College Hospital (PUMCH) were retrospectively reviewed.
Results
All patients were IA/IC low grade EOC patients. Mean age was 28 years (ranged from 18 to 44 years). Among them, 47.5% had mucinous carcinoma, 22.5% clear cell carcinoma, 20% endometriod carcinoma, 10% serous carcinoma. 40% of patients were operated under laparoscopy. 67.5% of patients received chemo-therapy after surgery. The median follow up time was 54 months (ranged from 25 to 201 months). The 2 year and 5 year of disease free survival were respectively 95 and 87.5%. No death occurred. 27 patients (67.5%) were single or contraceptive. 13 patients (32.5%) tried to be pregnant, and 8 patients (61.5%) have successfully conceived spontaneously, including 1 fetus loss, 1 fetus death in uterus, 1 fetal anomaly and 5 live births (2 premature births and 3 term births). There was no tumor recurrence happened during pregnancy.
Conclusions
Fertility sparing surgery was safe and pregnancy was encouraged to stage IA/IC low grade EOC patients.