28.01.2020 | Observational Research | Ausgabe 9/2020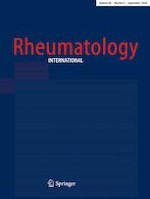 Pregnancy outcomes in partners of male ankylosing spondylitis patients treated with anti-tumour necrosis factor-α biologics: real-life results from a single-centre cross-sectional study
Zeitschrift:
Autoren:

Oguz Abdullah Uyaroglu, Emrah Seyhoglu, Abdulsamet Erden, Levent Kilic, Omer Karadag, Ali Akdogan, Sule Apras Bilgen, Ali Ihsan Ertenli, Sedat Kiraz, Umut Kalyoncu
Wichtige Hinweise
This study is presented in the 2017 ACR/ARPH Annual Meeting on September 18, 2017 in poster session (abstract number: 1312) Citation: Uyaroglu OA, Seyhoglu E, Erden A, Kilic L, Armagan B, Sari A, Karadag O, Akdogan A, Apras Bilgen S, Kiraz S, Ertenli I, Kalyoncu U (2017) Pregnancy outcomes in male patients using anti-tumor necrosis factor alpha patients with inflammatory arthritis; Hur-BIO real life experiences [abstract]. Arthritis Rheumatol 69(suppl 10).
https://​acrabstracts.​org/​abstract/​pregnancy-outcomes-in-male-patients-using-anti-tumor-necrosis-factor-alpha-patients-with-inflammatory-arthritis-hur-bio-real-life-experiences/​
. Accessed 28 Dec 2019
Publisher's Note
Springer Nature remains neutral with regard to jurisdictional claims in published maps and institutional affiliations.
Abstract
Most patients with inflammatory arthritis are at their reproductive ages. Use of anti-tumour necrosis factor alpha (anti-TNF-α) agents, one of the important treatment options for inflammatory arthritis, can cause foetal morbidity and mortality. While most studies on the effects of anti-TNF-α agents on pregnancy outcomes are about maternal exposure, the number of studies on the risks related to paternal exposure is insufficient. This study aimed to assess pregnancy periods and outcomes of the partners of male ankylosing spondylitis (AS) patients receiving anti-TNF-α treatment during the preconception period. Totally, 163 male AS patients using anti-TNF-α agents were identified from the Hacettepe University Biological Registry. Of these patients, 45 (27.6%) who declared that their partners got pregnant after initiation on anti-TNF-α agents were included. Data regarding demographics and drug exposure and pregnancy and infant outcomes were evaluated. Of 45 pregnancies, 39 (86.7%) resulted in healthy live births, 3 (6.7%) resulted in spontaneous abortion, and 3 (6.7%) were terminated with curettage. Of 39 live births, 34 (87.2%) were term and 5 (12.8%) were preterm, 30 (76.9%) had normal birth weight, 6 (15.4%) had low birth weight, and 3 (7.7%) had fetal macrosomia. No congenital malformations related to paternal exposure were observed. This study is valuable as being one of the studies providing pregnancy outcomes of partners of male AS patients receiving anti-TNF-α agents with its relatively high number of patients. The results suggested that paternal exposure to anti-TNF-α agents during preconception period could be safe on pregnancy outcomes.