01.12.2018 | Research article | Ausgabe 1/2018 Open Access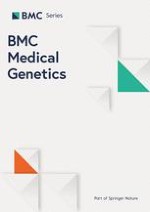 Prenatal diagnosis in a hereditary Peutz-Jeghers syndrome family with high cancer risk
Zeitschrift:
Autoren:

Zhiqing Wang, Shu Liu, Siping Liu, Yadong Wang, Junsheng Chen, Baoping Wu
Abstract
Background
Peutz-Jeghers Syndrome (PJS) is a hereditary cancer predisposing syndrome caused by autosomal dominant mutations in the serine/threonine kinase 11 (
STK11
) gene and is associated with decreased life expectancy. Many families experience a poorer quality of life due to the psychological burden associated with the carrier status of their child. Therefore early genetic testing and confirmation of the diagnosis is important for patients' psychological status, as well as for clinical management, genetic counseling and possible prenatal family planning.
Methods
In this study, peripheral blood genomic DNA samples from a Chinese PJS family with a high cancer risk were examined for
STK11
mutations using Sanger sequencing and MLPA analysis. Furthermore, prenatal PJS testing from transabdominal chorionic villi sample was performed in one female member of the family. This family was followed up for three years.
Results
In this family, the
STK11
exon 1 deletion (c.-1114-?_290 +?del) was predicted to affect the kinase domain of the protein and co-segregated with the disease phenotype. The same mutation was detected in the fetus and genetic sequencing and MLPA of the infant's DNA and the pigmentation on his lips confirmed the result of prenatal testing. To the best of our knowledge, this is the first report on PJS prenatal diagnosis of a PJS family in China.
Conclusions
An accurate and convenient PJS prenatal testing provides an opportunity for affected families to focus on polyp-related symptoms and cancer prevention and may be helpful for couples in family planning decision-making.