01.12.2016 | Case report | Ausgabe 1/2016 Open Access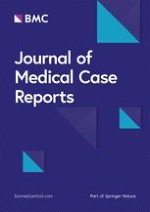 Prenatal sonographic diagnosis of fetal valproate syndrome: a case report
Zeitschrift:
Autoren:

Norihiko Kikuchi, Satoshi Ohira, Ryoichi Asaka, Kyoko Tanaka, Akiko Takatsu, Tanri Shiozawa
Abstract
Background
Prenatal exposure of mother to valproate (VPA) causes teratogenic effects in the fetus, namely fetal valproate syndrome (FVS). We report a case of fetal valproate syndrome rarely diagnosed by prenatal sonographic examination.
Case presentation
Our patient was a female infant who was born to a 27-year-old nulliparous Japanese woman with epilepsy. The mother was diagnosed with infantile epilepsy at 1 year of age and had been using three antiepileptic drugs, including valproate, but preconceptional counseling was not performed. At 25 weeks of gestation, contracture of the fetal right wrist joint suggestive of a radial ray defect was observed by transabdominal ultrasonography. The fetus demonstrated growth retardation starting from 32 weeks of gestation. In addition, saddle nose as a facial anomaly was detected by three-dimensional ultrasound at 37 weeks of gestation. Accordingly, we suspected that the fetus had fetal valproate syndrome. At 39 weeks of gestation, the mother delivered an infant weighing 2056 g. The neonate had characteristic features of fetal valproate syndrome, such as facial configuration, slight muscular hypotonia of the whole body, breathing problems, right-hand articular contracture accompanied by radial ray defect, and cardiovascular malformation.
Conclusions
When obstetricians manage epileptic pregnant women without enough preconceptional counseling or adjustment for antiepileptic drugs, careful sonographic observation of the fetus is mandatory.