06.04.2018 | Hepatobiliary Tumors | Ausgabe 6/2018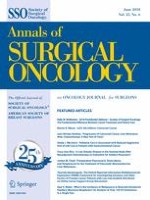 Preoperative Fluorouracil, Doxorubicin, and Streptozocin for the Treatment of Pancreatic Neuroendocrine Liver Metastases
Zeitschrift:
Autoren:

MD Jordan M. Cloyd, MD Kiyohiko Omichi, MD Takashi Mizuno, MD Yoshikuni Kawaguchi, MD Ching-Wei D. Tzeng, MD Claudius Conrad, MD Yun Shin Chun, MD Thomas A. Aloia, MD Matthew H. G. Katz, MD Jeffrey E. Lee, MD Daniel Halperin, MD James Yao, MD Jean-Nicolas Vauthey, MD Arvind Dasari
Wichtige Hinweise
Electronic supplementary material
Jordan M. Cloyd and Kiyohiko Omichi have contributed equally to this work. Jean-Nicolas Vauthey and Arvind Dasari have contributed equally to this work.
Abstract
Introduction
While preoperative chemotherapy is frequently utilized before resection of non-neuroendocrine liver metastases, patients with resectable neuroendocrine liver metastases typically undergo surgery first. FAS is a cytotoxic chemotherapy regimen that is associated with substantial response rates in locally advanced and metastatic pancreatic neuroendocrine tumors.
Methods
All patients who underwent R0/R1 resection of pancreatic neuroendocrine liver metastases at a single institution between 1998 and 2015 were included. The outcomes of patients treated with preoperative FAS were compared with those of patients who were not.
Results
Of the 67 patients included, 27 (40.3%) received preoperative FAS, whereas 40 (59.7%) did not. Despite being associated with higher rates of synchronous disease, lymph node metastases, and larger tumor size, patients who received preoperative FAS had similar overall survival [overall survival (OS), 108.2 months (95% confidence interval (CI) 78.0–136.0) vs. 107.0 months (95% CI 78.0–136.0),
p
 = 0.64] and recurrence-free survival [RFS, 25.1 months (95% CI 23.2–27.0) vs. 18.0 months (95% CI 13.8–22.2),
p
 = 0.16] as patients who did not. Among patients who presented with synchronous liver metastases (
n
 = 46), the median OS [97.3 months (95% CI 65.9–128.6) vs. 65.0 months (95% CI 28.1–101.9),
p
 = 0.001] and RFS [24.8 months (95% CI 22.6–26.9) vs. 12.1 months (2.2–22.0),
p
 = 0.003] were significantly greater among patients who received preoperative FAS compared with those who did not.
Conclusions
The use of FAS before liver resection is associated with improved OS compared with surgery alone among patients with advanced synchronous pancreatic neuroendocrine liver metastases.